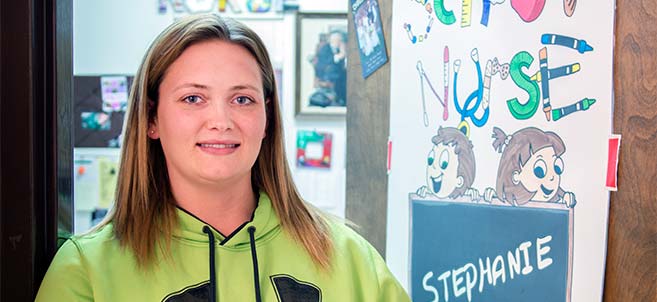 While working in the medical field, Certified Nursing Assistant Stephanie Winger found her passion for taking care of others.
Living in Bemidji, the Hutchinson, Minn., native was kept busy pursing that passion while also caring for her young family. When she decided to continue her education in order to advance her career, she chose Northwest Technical College.
"I decided to attend NTC because of the closeness to home and the flexibility of online and on-campus classes," she said.
Winger chose to pursue a diploma in Practical Nursing, a program that prepares students to practice professional nursing under the supervision of a registered nurse.
"The Practical Nursing program gave me the knowledge to go out into the work force and feel confident about being a nurse," Winger said.
NTC's Practical Nursing instructors teach students about health maintenance and preventing illness, how to observe and care for people who's health is changing, and how to administer prescribed medication and treatments.
With her NTC diploma in Practical Nursing as a base, Winger could pursue her education further by exploring a degree program. While she says her family and work are keeping her busy at the moment, she admits that she is excited by the opportunity to continue building on what she's learned at NTC.
"I might expand my degree one day," said Winger. "But for now I love my job and what I do."
Winger currently works as a health paraprofessional at Bemidji's Paul Bunyan Kindergarten. Using her education from NTC, she achieved her goal of working in Bemidji's public school district in a job that allows her to balance her responsibilities to her family and to her career.
Winger said she credits her success to the support she received as a student at Northwest Technical College, and to the job skills and professionalism she learned from the Practical Nursing program's instructors.
"All my instructors have inspired me," she said. "They all had different areas of expertise and knowledge. When I graduated I felt like I had accomplished something and that I was ready to be a nurse."