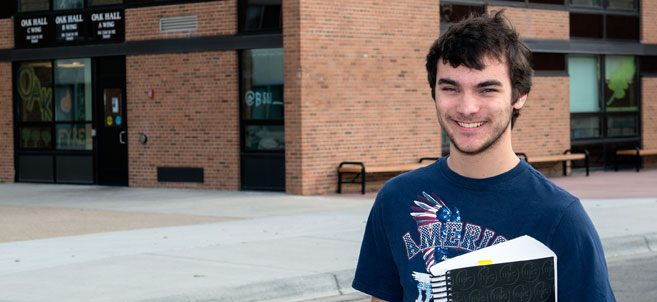 Through long hours working with his high school robotics team, Garrett Shustarich developed a passion for electrical work.
"I usually dedicated four or five hours of my day, every day, to the team," he said.
When the Grand Rapids, Minn., native began exploring colleges, that passion and dedication led him to the electrical construction and maintenance program at Northwest Technical College. He loved the sense of community he found in Bemidji, took the leap and is now enrolled in NTC's 74-credit diploma program.
"I am thoroughly enjoying the electrical program so far," he said. "I enjoy that hands-on feeling I get when I'm installing or crimping a wire. I'm looking forward to getting my hands in the commercial side of wiring, as well as building smaller robotics."
As part of the college's unique partnership with nearby Bemidji State University, Shustarich is able to live in BSU's residence halls as an NTC student.
"That way I wouldn't have to search for housing," he said. "Being surrounded by people 24–7 is pretty much a dream come true."
While living that dream, Shustarich is not only working toward his diploma at NTC, but also embedding himself in the additional campus life opportunities available to him as a BSU resident student. He is currently the hall council vice president for Oak Hall and has joined BSU's Swing Dance Club. NTC and BSU have a combined enrollment of over 6,000 students, and Shustarich says it's his goal to someday walk across campus and know every single person he sees.
"It really brings me out of my shell," he said. "The opportunities I have at BSU as an NTC student let me be more socially extroverted rather than stay introverted. I've really flourished and blossomed in college."
He navigates his network of friends to help him move back and forth between the BSU and NTC campuses, separated by three miles and by Lake Bemidji. He also counts his peer academic advisors and community assistants at BSU among his new family away from home, appreciating that he has someone across the hall he can talk to at any time.
"They're very supportive of me and they're always there to listen," he said.
After earning his diploma from NTC, Sustarich looks forward to a job working with electrical components while pursuing his passion for the theatre.
"Set your heights high," he said. "You'll succeed."
Learn more about the Electrical Construction and Maintenance program at Northwest Technical College at (218) 333-6600, admissions@ntcmn.edu, or by visiting the college. Schedule your visit today at NTCmn.edu/visit.