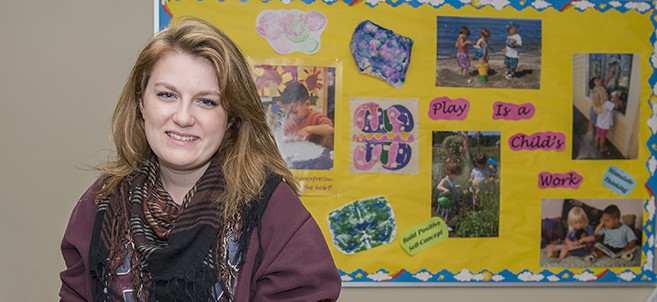 After Courtney Sovde graduated from Bemidji High School, she wanted to earn a college degree and enter the workforce as soon as possible. For her, that meant enrolling in the two-year Young Child Education program at Northwest Technical College.
At NTC, the 21-year old Sovde enjoys having the same instructor, Pam Stowe, through each of her classes in the program.
"She is very kind and has a genuine care for her students," Sovde said of Stowe.
Sovde attributes the close relationship between Stowe and her students to NTC's small class sizes. With smaller classes, teachers can spend more one-on-one time helping students and understanding their individual career goals.
Sovde also appreciates the dedication Stowe has shown to preparing students for the workforce. Sovde said students are often asked to work through scenarios that may come up in the workplace so they can learn how to handle situations and explore different outcomes. Stowe also places students in lab sites at schools and daycares, giving them the opportunity to gain real experience in the field.
In addition to the teachers and career preparation, Sovde loves all of the people she's met through NTC. The biggest surprise for Sovde about continuing her education at NTC has been the ease of making friends with her classmates.
"I made friends the first day of my program," Sovde said. "The girl sitting next to me that first day is one of my best friends at school now, and every person in my program gets along. Making friends has never been so easy."
Her teacher, classmates and lab-site experience have made Sovde's time at NTC a valuable experience. She is more excited than ever to enter the workforce when she graduates in May 2016. She is also considering continuing her education at a four-year university in order to obtain her bachelor's degree in Elementary Education.
Learn more about the Child Care and Education or Young Child Education programs at Northwest Technical College at (218) 333-6600, admissions@ntcmn.edu, or by visiting the college.