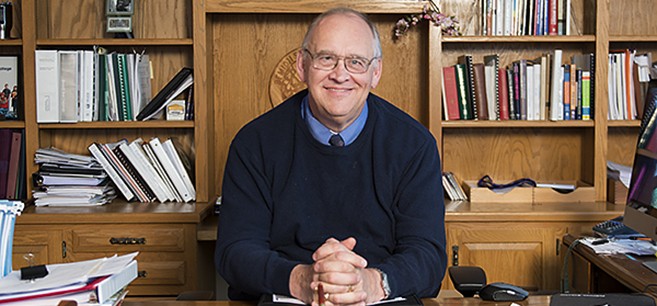 Dr. Richard A. Hanson announced Tuesday, Aug. 18, that he plans to retire June 30 after six years as president of Bemidji State University and Northwest Technical College.
A national search for Hanson's successor will begin this fall, with the goal of having a new president in place by July 1, said Chancellor Steven Rosenstone of the Minnesota State Colleges and Universities system (MnSCU).
Rosenstone said he will visit Bemidji soon to meet with students, faculty, staff and community members and learn what qualities they consider most important to the success of the next president of BSU and NTC.
Hanson received a standing ovation from faculty and staff following his remarks at BSU's traditional All-University Meeting, which kicks off the new academic year. He is scheduled to meet Wednesday with the faculty and staff of NTC.
"This is the best job I've ever had at the best place I've ever been," Hanson told the breakfast gathering of several hundred people in the Beaux Arts Ballroom of Hobson Memorial Union. "This is a fabulous institution, and we are on the verge of some really good things."
The decision to retire at the end of his current contract was inevitably difficult, he said, but he looks forward to more time with his wife, Dianne, and their family. He joked about getting a break from frequent four-hour trips to attend meetings at MnSCU headquarters.
"I've still got some gas in my tank, but I don't want to use it driving to St. Paul," he said.
A 43-year career in higher education
Hanson took office as president of BSU and NTC in July 2010 following his appointment by the MnSCU Board of Trustees. Previously he was interim president of North Dakota State University and president at Waldorf College in Forest City, Iowa.
In addition, Hanson was dean of the college and vice president for academic affairs at Augustana College in Sioux Falls, S.D., from 1995 to 2005. He also served North Dakota State University for 15 years as a professor, department chair, dean and associate vice president for academic affairs. Earlier, he was chair of the Department of Home Economics at California State University, Chico.
He earned his bachelor's degree in sociology and his master's degree in child development and family relations, both from North Dakota State University, and a doctorate in applied behavioral science from the University of California-Davis.
Hanson era marked by fundraising, engagement
Hanson's tenure in Bemidji has included leadership of BSU's first-ever comprehensive fundraising campaign, Imagine Tomorrow, which is set to conclude in June after five years with an initial goal of $35 million for scholarships and academic investment. He also has placed renewed emphasis on international recruitment and education abroad, and championed BSU's distinction as a north woods campus that offers residential students a transformative college experience.
Major campus improvements have been another hallmark of Hanson's years. Memorial Hall, completed as a gymnasium in 1940, will reopen this month after a year of construction as the new $14 million home of the university's business and accounting departments. Next fall, a 54-bed apartment building called University Heights is scheduled to open just west of the BSU campus on Bemidji Avenue, the result of a public-private partnership initiated by Hanson.
BSU now seeks $18.1 million in 2016 state bonding funds to replace 35-year-old Hagg-Sauer Hall with a smaller, but state-of-the-art, academic learning center and renovate other buildings to establish new faculty-student learning communities. If legislators and the governor approve the funding, the project will begin next summer.
In recent years, BSU has steadily expanded its online and off-campus programs, including new bachelor's degree-completion programs in business administration at Anoka-Ramsey Community College and in biology at North Hennepin Community College in Minneapolis.
Hanson also has placed a priority on increasing BSU's community visibility and engagement, including such steps as establishing an office in the Mayflower Building, an economic development hub in downtown Bemidji, and agreeing to maintain a BSU gallery in the Watermark Arts Center for visual art, also in downtown Bemidji.
In addition, he has strengthened the connections between Bemidji State and NTC, fostering greater academic collaboration in addition to efficiencies gained from dual responsibilities for many administrators and staff.
In August 2014, Dr. Hanson initiated a comprehensive process of review for NTC known as "reinvention" that produced streamlined academic programs aligned directly with workforce needs in northern Minnesota. Those changes are being rolled out this fall semester, which begins Aug. 24.
Extensive search process planned
The MnSCU presidential search process will formally begin with appointment of a search advisory committee to include students, faculty, staff and community members and be chaired by the president of a college or university within the system. Employee bargaining groups will be consulted on committee membership.
After selecting final candidates and inviting all stakeholders to meet them, the advisory committee will make a recommendation to Chancellor Rosenstone, who will in turn recommend an appointment to the system's Board of Trustees.
Hanson told his BSU audience he has absolute confidence in the process to select the university's 11th president and leader of public higher education in Bemidji.
"In my experience, there is no role the chancellor takes more seriously than identifying world-class talent to serve as presidents of our institutions," he said. "Dr. Rosenstone has a deep appreciation of the importance the president plays in the communities we serve."
Links
• Dr. Richard A. Hanson photo: http://bit.ly/1WCS84W
Contact
• Scott Faust, director of communications & marketing; (218) 755-2986, sfaust@bemidjistate.edu
Northwest Technical College, located in northern Minnesota's lake district, is an open, inviting technological learning organization. For more than 40 years, the college has valued life-long learning and the worth and dignity of all people. The college serves 900 students with a high-quality education, an open-enrollment policy and affordable tuition. NTC offers nearly 60 degree, diploma and certificate programs in areas such as business, health, human and protective services and environmental and industrial technology. Classes are offered on the Bemidji campus, online, or as a combination of both. NTC is a member of the Minnesota State Colleges and Universities system.