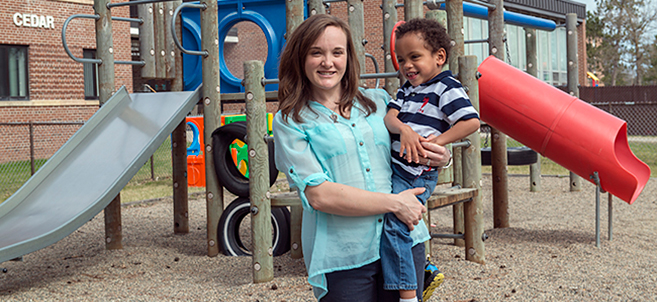 Single parents who are seeking ways to balance college with family responsibilities have a unique housing option available to them at Bemidji State University.
Cedar Apartments' 21 units give single parents an opportunity to enroll and complete a degrees at BSU or Northwest Technical College while upholding responsibilities to their families. As BSU's Office of Residential Life also offers services to NTC students as part of the close relationship between the schools, NTC students are also invited to apply to live in Cedar Apartments (PDF download)
"Cedar Apartments is great for single parents who may be struggling financially or think that college isn't an option because of their family situation," said Jodi Monerson, BSU's director of residential life. "Cedar creates a supportive environment that helps our residents succeed academically while they take care of their family obligations. It's a unique environment."
Cedar Apartments offers a mix of two- and three-bedroom apartments, and all amenities — including utilities, Internet access, local phone service and basic cable — are included in the lease. Currently, a two-bedroom unit rents for $525 per month with rent for a three-bedroom unit at $625. Residents have flexible lease options, with nine- and 12-month leases available.
Miranda Rose, a nursing major who graduates this spring, moved into Cedar Apartments in 2012 and has found the experience to be crucial to her academic success at BSU. As an Army veteran attending school on the G.I. Bill, Rose needed a home that was convenient and affordable for her, but also one that provided a safe, secure and supportive environment of her son, Camden.
"I knew that it wasn't really a good idea for me to try and work full-time while I was in school, so I needed to live somewhere that as affordable," she said. "Cedar has been wonderful — I love it. It's quiet, it's clean, it's safe, and it's affordable It's really an ideal situation for me as a single parent trying to finish school."
Cedar Apartments is BSU's only residence hall with its own dedicated parking lot for residents. Other amenities include 24-hour security, an on-site member of BSU's Residential Life staff, indoor and fenced outdoor play areas for children, laundry facilities on each floor of the building, and access to the Gillett Recreation-Fitness Center, food service and academic buildings available via BSU's underground tunnel system.
Many of the on-site amenities, including the indoor play area, have undergone recent renovations to better support the building's residents.
Cedar Apartments has openings available for Fall 2015. Students or prospective students who are interested in learning more about living in Cedar are encouraged to contact BSU's Office of Residential Life.
"It's really the best opportunity you will find, as far as housing," Rose said. "You're right here on campus; if your kid is preschool age, there's a preschool right downstairs. It's been an ideal situation. There are a lot of every-day concerns that come with being a parent that just aren't concerns while I'm living here."
Contact
• Jodi Monerson, director of residential life; (218) 755-3750, jmonerson@bemidjistate.edu