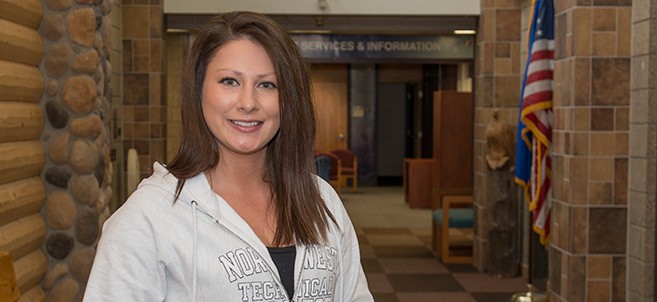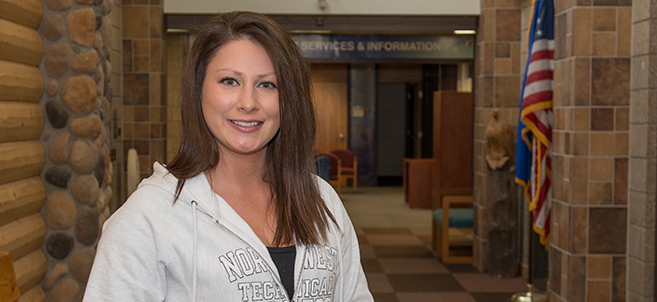 Megan Chavez, a 2007 graduate of Bemidji High School, graduated May 8 with a Community Health Worker certificate from Northwest Technical College. She hopes to use her new training in helping patients navigate the health care system to advance at Sanford Bemidji Medical Center, where she has worked since 2011 in the admitting department, assisting with patient registration, appointments and support. Chavez and her 4-year-old daughter live in Bemidji.
How does it feel to be graduating this week?
Very exciting! The reality of it just started to hit me this week. I feel anxious, happy and very proud of myself.
What made your experience at NTC a good one?
My instructor, Wendy Potratz, was pretty amazing and always helpful, and I really appreciated that. All my teachers were great. The school is almost always open, and being able to use the printer free of charge as a student was great for me, since I used it every week.
Would you recommend the Community Health Worker program?
If they were interested in health care and the community, I definitely would. This program goes over many different topics. It is a fairly new practice in the health care system, but it is a growing field and has already proven to be greatly beneficial to patients. I think it's a great opportunity.
What are you career goals now that you're graduating?
Now that Sanford has opened the door to the role of Community Health Workers on its staff, I'm looking forward to becoming a part of that team.
How has getting your degree at NTC benefited you and your family?
It's been a rewarding experience – challenging at times, definitely, but well worth it. I can't wait for my daughter to see her mommy walking on stage in a cap and gown – even if she doesn't quite understand why I'm dressed like that!
To learn more about the Community Health Worker program at Northwest Technical College, call (218) 333-6600, emailadmissions@ntcmn.edu or go to NTCmn.edu/visit.