63 Northwest Technical College students were awarded a record $122,500 in scholarships during a Sept. 20 recognition breakfast held in the NTC dining center.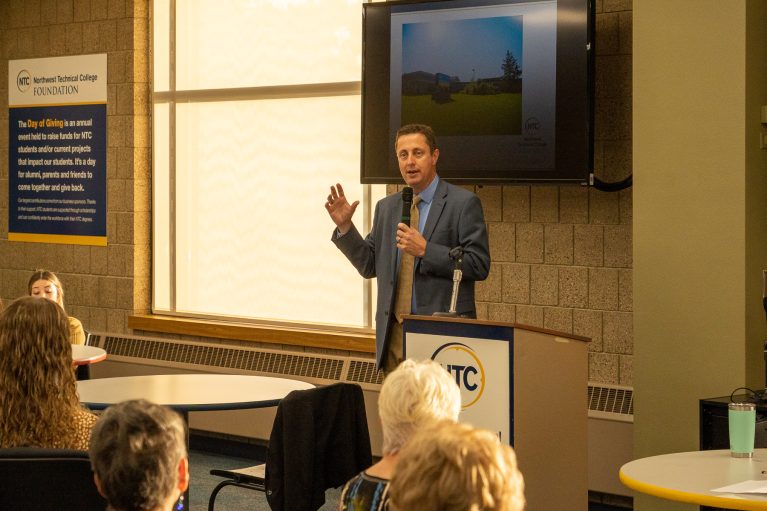 NTC President John Hoffman congratulated this year's scholarship recipients, stressed the value of an NTC education and commended those who continually invest in NTC students.
"NTC graduates go out and make a difference. We can tell that because there are folks all around this room — parents, family and scholarship donors — who are dedicating time, talent and their dollars into NTC students," Hoffman said. "If NTC wasn't graduating great students, we wouldn't see that kind of investment."
The newly-created Delta Dental of Minnesota Foundation Scholarship was awarded to five dental assisting students this year. The scholarship provides support specifically for black, indigenous and students of color enrolled in NTC's dental assisting program.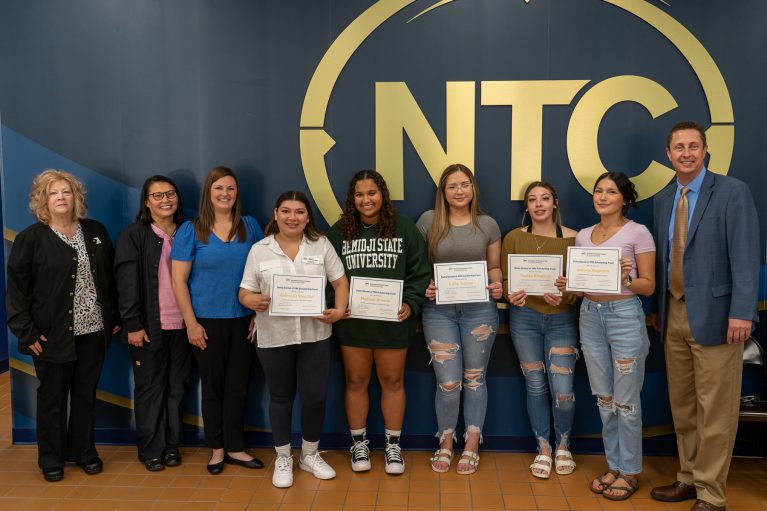 Since 2017, the NTC Foundation has raised nearly $500,000 of support for the hundreds of students who apply for scholarships each year.
"We are proud of this work, but we are also proud to support technical education and the students who will represent the backbone of our economy," said Erin Echternach, chair of the NTC Foundation board of directors.
2022 NTC Scholarship Recipients
Northwest Technical College Foundation General Scholarship
Ashley Sullivan, health care, Hammond, Wisc.
Amanda Odegaard, health care, Elk River
George W. Neilson Foundation Scholarship
Sarah Pilbeam, health care, Morenci, Mich.
Emma Dean, health care, Bemidji
Gaige Schue, health care, Mizpah
Gabriella Santillan, health care, Bemidji
Jackson Christianson, building systems, Tyler
Shelby Steinberg, health care, Northfield
Beatrix Braun, health care, Duluth
Ryan Young, residential plumbing/HVAC, Bemidji
Taylor Graftaas, health care, Carlton
David Bergstrom, building systems, Bemidji
Kaleb Serbus, automotive service, Redwood Falls
Linda Rogers, health care, Bemidji
Sarah Rose, building systems, Gonvick
Elsa Sjoberg, health care
Chloe Pederson, health care, Bemidji
Zach Gramse, residential plumbing/HVAC, Hugo
Kathy Idovich, dental assisting, Akeley
Dray Turner, electrical construction, Brainerd
Aubrie Smith, dental assisting, Bemidji
Adanna Lee, health care, Bemidji
Uran Family Scholarship
Tiffany Nordstrom, health care, Bemidji
Linda Rafferty, health care, Fosston
Fred Breen Scholarship
Kathryn Kerr, health care, Bemidji
Summer Currant, health care, Puposky
Jared Liend, automotive service, Bemidji
Alex Meland, building systems, Bemidji
Nathan Luehrs, building systems, Bemidji
Claire Nelson, health care, Bemidji
Merle & Mildred Rundell Education Fund
Ovis Polo, health care, Bemidji
Sanford Health Bemidji Scholarship Fund
Chloe Clark, nursing
Megan Doubek, nursing
Keala Hand, nursing
Paul Mureiko, nursing
Kole Olson, nursing
Miranda Jansson, nursing
Amber Nuemann, nursing
William Johnson, nursing
Claire Nelson, nursing
Desire McCray, nursing
Alexis Dreher, nursing
Delta Dental of Minnesota Foundation Scholarship
Justyce Auginash, dental assisting, Red Lake
Madison Greene, dental assisting, Bemidji
Taylee Kingbird, dental assisting, Redby
Gabriella Santillan, dental assisting, Roseau
Callie Sumner, dental assisting, Red Lake
Bemidji Career Academy Scholarship Fund
Daniel Anderson
Benjamin Dockendorf
Jack Fladeboe
Alyse Kanani
Isaiah Lewis
Alexander McKercher
John McNallan
Aubrie Smith
Paul Bunyan Communications Scholarship
Sarah Jensen, health care, Grand Rapids
Otter Tail Power Company Scholarship
Sam Winn, building systems, Frazee
Thomas Schmidt, building systems, Pine River
Mississippi Headwaters Bloodbank
Heather Barstad, health care, Fosston
Paul Bunyan Vintage Auto
Terra Paulbicke, automotive service, Bemidji
Sandy Johanning Award for Compassion
Luke Berglund, nursing
Katie Kerr, nursing
Inez Sigana, nursing