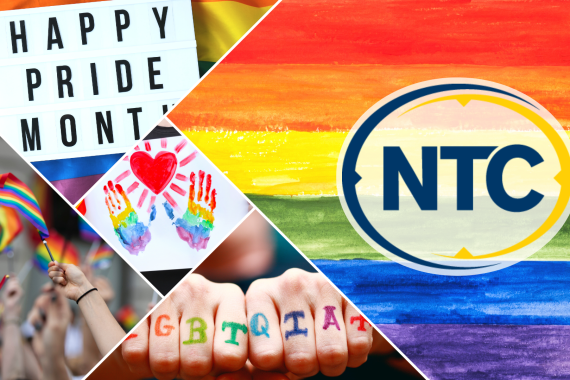 While June is nationally recognized as Pride Month, Northwest Technical College supports and welcomes all students regardless of gender identity or sexual orientation year-round.
The first Pride Month – then called "Gay and Lesbian Pride Month" – was declared in 1999 by President Bill Clinton to recognize the Stonewall Riots on June 28, 1969. During the riots patrons of New York City's Stonewall Inn resisted police violence targeted towards the queer community and sparked the 2SLGBTQIA+ movement.
2SLGBTQIA+ stands for two-spirit, lesbian, gay, bisexual, transgender, queer/questioning, intersex, asexual, plus. The term "queer" throughout this narrative signifies queer-sexual and queer-gender identities, as well as those who are part of the 2SLGBTQIA+ community.
Northwest Tech Pride 2022
On June 22, the Division of Diversity, Equity and Inclusion is inviting campus and community members to participate on a panel that will highlight 2SLGBTQIA+ experiences at NTC, Bemidji State University and in the Bemidji community. Nicholas Taylor, director of civil rights and affirmative action, said the event is the first initiative in the division's "Proud All Year" program.
"The program will also include our presence and participation in the Bemidji Pride event in August, as well as trainings, programming and communications at BSU and NTC," Taylor said. "The Division of Diversity, Equity and Inclusion is PROUD to serve our queer- and trans-identifying students, community and alongside staff and faculty at both institutions."
The division plans to use the hashtag #ProudAllYear on social media to chronicle the campaign throughout the year.
In addition, the NTC/BSU center for diversity, equity and inclusion is working with the libraries on campus to set up a Pride Month book display and will place supportive message boards on both campuses. For more information about these efforts, contact Dr. Ye "Solar" Hong, director diversity, equity and inclusion.
Contact
Links
2022-N-059