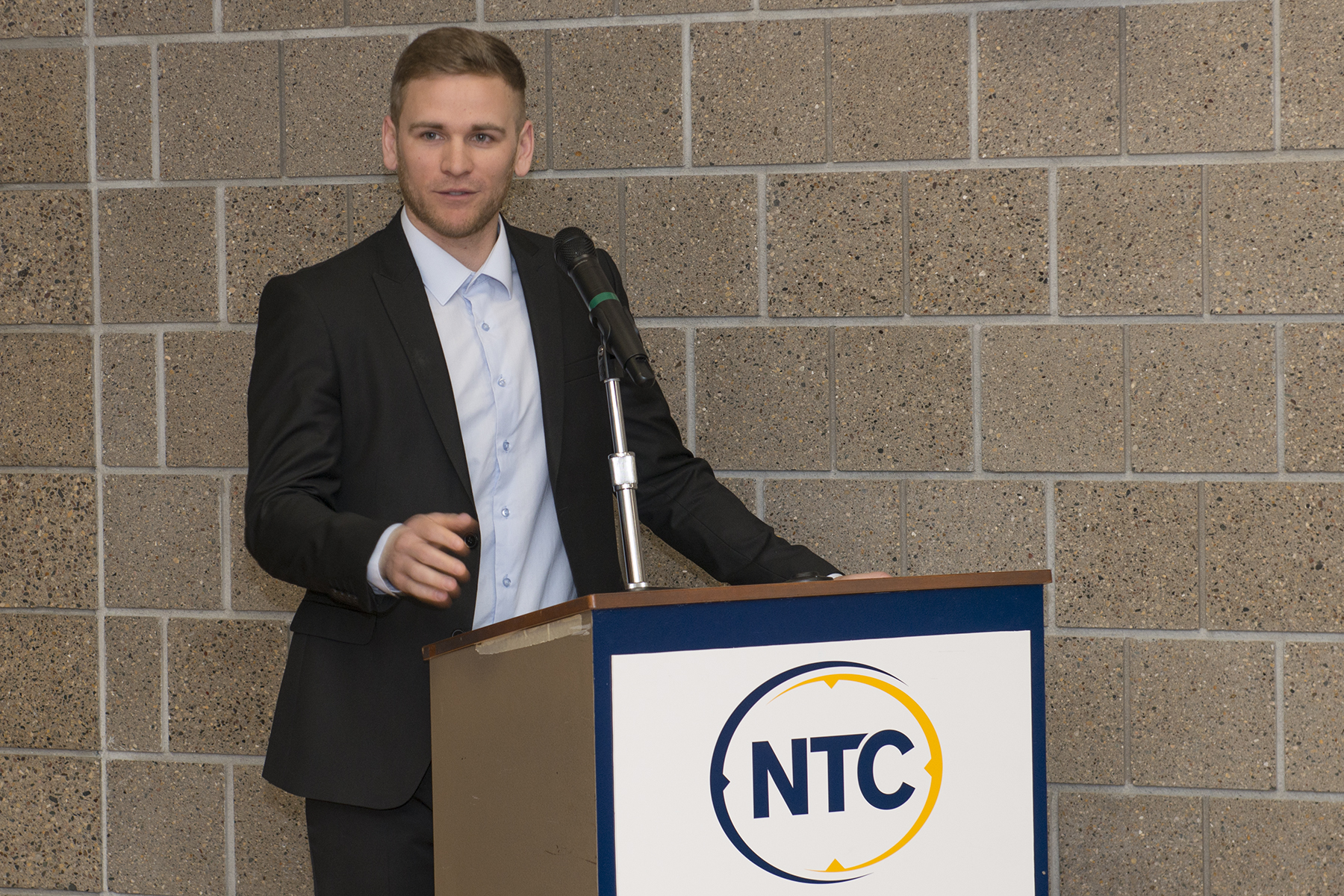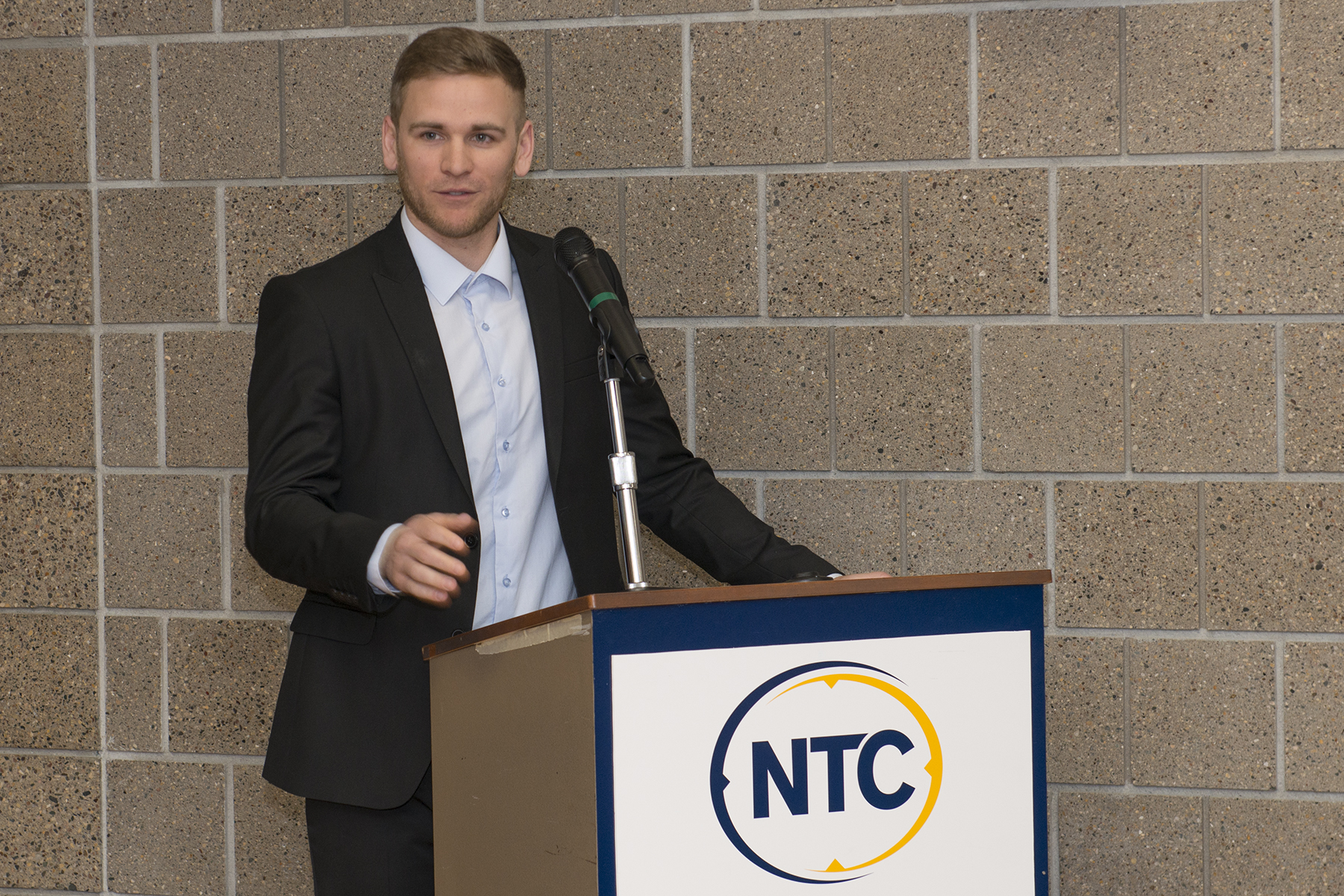 Northwest Technical College held its third annual Student Achievement Celebration May 6, recognizing outstanding students in a virtual event on Zoom.
The event was organized by Tyler Peterson, NTC student success coordinator, and was created to applaud students' hard work and determination in their academic careers. The celebration was one of Peterson's first initiatives after joining NTC in January 2019.
"We really do have some incredible students here at NTC and this is such a fun day and a fun event to recognize and honor some of our most wonderful students," Peterson said. "This group of students got thrown into a worldwide pandemic and have had to deal with that while continuing their classes, working and raising families. All of the students recognized today, managed to overcome all of that while excelling in their courses."
Each of NTC's programs selected an outstanding student — one who consistently gives an exceptional effort, always participates, and is enthusiastic and dedicated within their program — and a most improved student — recognizing students who show tremendous growth and development in their skills and knowledge within their program.
Darrin Strosahl, NTC's vice president for academic affairs, opened the event by highlighting the perseverance demonstrated by all NTC students on their academic journeys.
"Our student's achievements are certainly worth celebrating," Strosahl said. "We celebrate our students today knowing that they have great potential for the future. It is a joy to be a part of helping everyone succeed at NTC."
President Faith C. Hensrud also welcomed all attendees and congratulated students on their resilience amidst the COVID-19 pandemic.
"The stories shared and the different paths our students have taken toward completing their education is inspiring, as it demonstrates both resilience and the strong desire to accomplish their goals," she said. "We are so very proud of the hard work and determination that helped each of our students to succeed in their coursework while also staying safe and healthy throughout this very challenging year."
In addition to the program awards, NTC students, faculty and staff identified 10 students to receive campus-wide acknowledgments including awards for extraordinary kindness, community engagement award and online learning.
Academic Awards
Accounting
Outstanding student: Majesta Allen, Thief River Falls.
Automotive Service
Outstanding Students: Roy and Brandon Strelow, Bemidji.
Most Improved: Taylor Just, Tenstrike.
Business
Outstanding Student: Stacy Ness, Bemidji.
Business/Administrative Support
Outstanding Student: Randy Stillday, Red Lake.
Child Care & Education
Outstanding Student: Rachel Harris, Bemidji.
Most improved: Mikaila Hinds, Hibbing.
Commercial Refrigeration
Outstanding Student: Anthony Cipriano, Littlefork.
Most Improved: Beau Stiller, Lindstrom.
Community Health
Outstanding Student: Jennifer Johnson, Minneapolis.
Most Improved: Rahma Ahmed, Minneapolis.
Dental Assisting
Outstanding Student: Danica Swanson, Bemidji.
Most Improved: Jalayna Kelley, Red Lake Falls.
Electrical Construction
Outstanding Student: Brittney Rohloff, Bemidji.
Most Improved: Coby Schlee, Bemidji.
Emerging Technology Student
Outstanding Student: Raven Clark, Bemidji.
Gerontology
Outstanding Student: Britton Kleeb, Bemidji.
Most Improved: Rebecca Unzeitig, Keewatin.
Health Sciences
Outstanding Student: Ashley Gale, Bena.
Most Improved: Heather Barstad, Fosston.
Human Resources
Outstanding Student: Dana Watkins, Rock Island, Illinois.
Management
Outstanding Student: Leann Dorr, Bemidji.
Medical Coding
Outstanding Student: Mariah Reyes, Bemidji
Most Improved: Duane Fornshell, Baxter.
Nursing – LPN Step-In
Outstanding Student: Tina Smith, Sauk Rapids.
Most Improved: Fawn Eisenbarth, Laporte.
Nursing – Practical
Outstanding Student: Keegan Meagher, Bemidji.
Most Improved: Parisha Benson, Leonard.
Nursing – RN
Outstanding Student: Na Zhao, post-doctorate student, Bemidji
Most Improved: Megan Eveslage, Waconia.
Residential Plumbing/HVAC
Outstanding Student: Steven Kemp, Eveleth.
Most Improved: Sawyer Kallroos, Pillager.
Sales, Marketing & Management
Outstanding Student: Hannah Eichstadt, Bemidji.
Campus-wide Awards
Perseverance Award
Peder Johnson, Bemidji.
Extraordinary Kindness Award
Na Zhao, post-doctorate student, Bemidji.
Student Leadership Award
Danielle Grieger, Squaw Lake.
Community Engagement Award
Lorrie Prickett, Bemidji.
Dedicated & Devoted Award
Barbara Pemberton, Red Lake.
Demonstrated Diversity Award
Adina Harvey, Sauk Rapids.
Non-traditional Student Achievement Award
Gina Jones, Bemidji.
Outstanding Online Learner Award
Jessica Marquedant, Holdingford.
Student Worker of the Year Award
Ryan Hargett, Bemidji.
NTC Spirit Award
Zoey Mistic, Tenstrike.
All towns listed above are in Minnesota unless otherwise noted.
Contact
Links
2021-N-67
Northwest Technical College, located in northern Minnesota's lake district, has prepared students for fulfilling careers in high-demand fields for more than 50 years. The college's accessible, affordable, hands-on programs also help the region's employers meet their ever-growing need for a highly skilled workforce. NTC serves more than 1,000 students with an excellent education, an open-enrollment policy and affordable tuition. Students may pursue nearly 40 degree, diploma and certificate programs in six distinct career paths. Classes are offered on campus, online, or as a combination of both. NTC is a member of the Minnesota State system of colleges and universities. For more, visit ntcmn.edu
— ntc —
—
Rachel Munson
Assistant Director of Communications and Marketing
Northwest Technical College & Bemidji State University
rachel.munson@bemidjistate.edu // (218) 755-2748
facebook.com/NorthwestTechnicalCollege // @NTCMN // ntcmn.edu