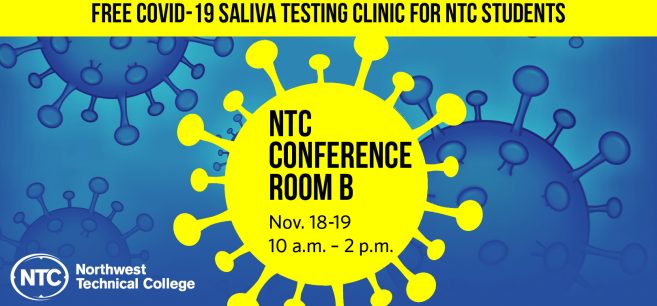 Broad testing for COVID-19 is an important strategy for slowing the spread of this virus. It helps us identify those who are carriers of the virus but not showing symptoms, which means they show no signs of being ill but are spreading the virus to others.

If you were unable to attend the free student testing event on Nov. 17 at BSU, we are offering two additional opportunities to take a free COVID-19 test on the NTC campus:
Wednesday, Nov. 18 from 10 a.m. – 2 p.m.
Thursday, Nov. 19, from 10 a.m. – 2 p.m.
These tests may be taken on campus during a video call with Vault Labs, which you may do in the Student Success Center, or by taking the test home and returning it to us before Thursday at 2 p.m.

If you wish to participate in the testing, you are asked to:
arrive with clean hands.
do not consume liquids or food and do not smoke, use nasal sprays or teeth cleaning products or chew gum for at least 30 minutes before taking the test.
Have a scan or photo of a photo ID that clearly shows your full name and picture, so Vault Labs can confirm your identity during the test.
Vault will not share the results of your test with NTC. If your test comes back positive, please immediately call the student COVID-19 hotline at (218) 755-2901 to report the result and to seek guidance on the next steps you must take. 

Thank you for participating in this test and doing your part to keep our community safe