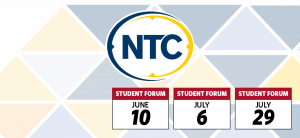 June 5, 2020 Message to Students
The following message was sent to all Northwest Technical College students on Friday, June 5, regarding the college's preliminary plans for the Fall 2020 semester.
NTC is planning for a mix of on-campus face-to-face and online classes this fall, as well as having campus housing open and available.
This summer we brought Dental Assisting and Welding students back to campus for face-to-face instruction to complete spring coursework. This has allowed us to develop a Return to Campus Plan and to put safety practices in place so technical education can occur. We are using this experience to continue planning ways to safely deliver technical education in a combination of face-to-face and other online or hybrid methods this coming fall, keeping social distancing in mind. Fall semester will start on August 24 — so please plan on joining us.
We recognize the demand for graduates with technical skills to meet the needs of employers, so we are working to find ways to allow students to complete programs and join the workforce.
As part of our summer preparation for fall, we continue to remodel lab spaces in our Commercial Refrigeration, Automotive, and Electrical areas. We are also investing in additional technical equipment for a variety of programs, including nursing and other health and human services and skilled trades programs. This equipment will enhance the quality of technical education we can provide to our students.
We are ready and willing to answer your questions, recognizing that there are still many unknowns that will be sorted out throughout the summer. We know the guidance on how to stay safe with COVID-19 will change before fall starts, but we want you to know that we are planning to welcome students in a safe manner with a combination of face-to-face and alternative delivery methods.
Open Forums and Updates
We hope this update gives you needed information to help you with your planning for fall. We also know you will have other questions, so we have scheduled three open forums designed specifically for you to ask questions and receive updates as the summer progresses.
Information on accessing the forums was sent to your Northwest Technical College student email address. These forums will be recorded and replays will be available on the NTC website.
Also, you can submit questions at any time by using the "I Have A Question" feature on our Coronavirus information website.
In addition, if you are hesitant or wondering about housing, please consider our partnership with BSU and the affordable student housing options available. These options offer you security and flexibility without a long-term lease.
HOUSING & RESIDENTIAL LIFE FOR FALL 2020
Bemidji State University residence halls plan to be open for fall semester. In accordance with the Centers for Disease Control and Prevention (CDC), Minnesota Department of Health (MDH), and Minnesota State system guidelines, the following changes have been made for the 2020-2021 academic year.
All double rooms in our traditional residence halls have been converted to single-occupancy rooms for 2020-2021. In these halls, double-as-single and single rooms will be offered at the double-room rate. Single rooms with a private bath will remain at the regular rate.
Halls converted to single occupancy at the lower double-room rate include:
Oak – a First-Year Residential Experience (FYRE) hall
Tamarack – a First-Year Residential Experience (FYRE) hall
Pine
Birch
Linden Hall will continue to offer our semi-private suites at the regular Linden rates.
University Heights and Cedar Apartments will remain as one- to four-person units at regular apartment rates.
We understand many students were looking forward to having a traditional "roommate experience."  We genuinely hope that can happen at some point in the near future, but we also want you to know we are working hard to plan ways for you to engage with your peers in meaningful and fun ways while maintaining safe and healthy communities.  We are also trying to provide those who wanted to live together the chance to live near each other in the same floor and hall communities.
In late May, every student who started or completed a housing application through StarRez received an email from Housing and Residential Life with important information regarding the room selection process for first-year and transfer students, proposed room rates for the 2020-2021 academic year, and notice about additional information coming soon regarding an early and extended move-in process and more. Please refer to this email and stay tuned to future emails for additional information regarding our planned residential experience for this upcoming academic year.
If you have not yet started or completed a housing application through StarRez but want to learn more, you still can.
Please contact us with questions, either through a quick call, a website chat, or submit a question using the "I Have A Question" feature on our Coronavirus information website.
We look forward to helping you align your education to employment! Take care and be safe!
Thank you,
Darrin Strosahl
Vice President of Academic Affairs
Northwest Technical College
905 Grant Ave SE
Bemidji, MN 56601
218-333-6611