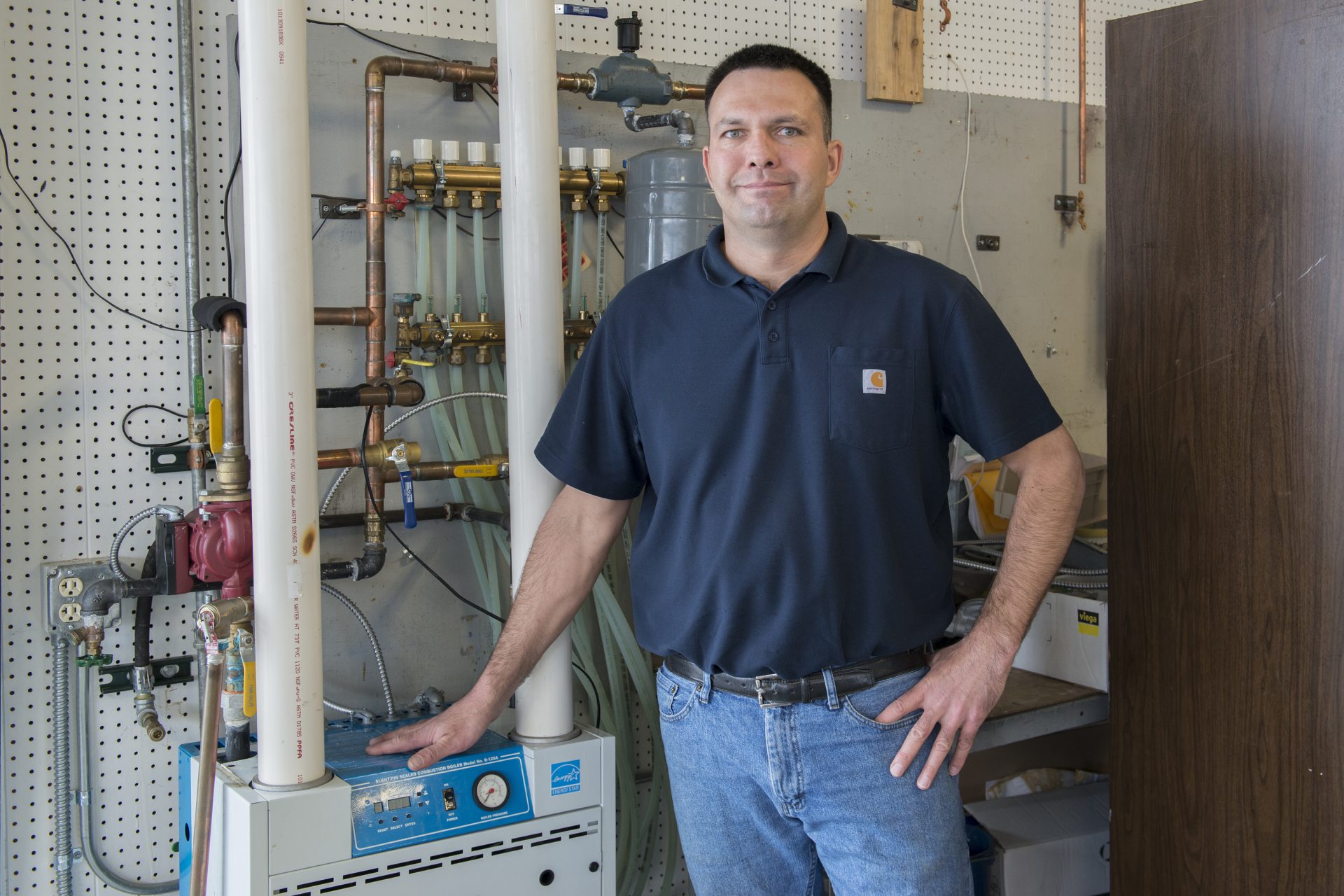 Driven by a desire to grow the program that played a crucial role in his professional career, 2012 Northwest Technical College graduate Julian Dreher has joined his alma mater as an instructor for plumbing and HVAC courses. Dreher joins the faculty following the retirement of Jeff Brower, a long-time instructor at NTC that Dreher considered a mentor.
Dreher, a Northome High School graduate, came to Bemidji in 1999 as a prospective criminal justice student at Bemidji State University. He began to explore the trades, working alongside his uncles in the carpentry industry, after finding that a four-year university was not a good fit.
He attributes much of his current success to values he learned from his uncles during this period of change — including the importance of having a strong work ethic.
"They influenced me to believe hard work will lead to achieving great things," Dreher said. "They've pushed me to be my best and supported me throughout all the changes and challenges of life."
Dreher was looking for a change after a decade in carpentry and construction, where he built everything from log homes to steel-framed buildings. His trades experience led him to NTC's plumbing/HVAC program. After completing his degree, he went on to work with Naylor's Heating and Refrigeration and then Wagner Plumbing and Heating.
"All of the contractors within our community are connected, leaning on each other and working together," Dreher said. "NTC is lucky to have the support from them in preparing graduates from this program to work in the field."
In his position at Wagner's he had the opportunity to teach apprentices from NTC and maintain his relationship with his mentor, Brower. As a result, Dreher began to imagine himself as an educator — something Brower saw in him ten years prior as a student. Once his retirement plans were finalized, Brower reached out to Dreher about applying for his position.
"Jeff's a phenomenal instructor. He's an expert in the field and is able to keep the class' attention in sharing his knowledge of the trade." Dreher said. "Sitting in class and watching him teach, I started to think, 'maybe I could do this'."
NTC is the only institution that offers a degree program that combines plumbing and HVAC and Dreher is excited to grow the program with guidance from his mentor.
"My job is to impress the contractors in the area, ensuring that each student has the knowledge and skills to succeed," Dreher said. "We are here to meet the high demand for skilled trade workers in our communities."
---
Residential Plumbing/HVAC
At Northwest Technical College in Bemidji, students can obtain a diploma in residential plumbing and heating, ventilation and air conditioning (HVAC). Explore traditional and emerging energy solutions in a field offering job opportunities in the Bemidji region. For more information, contact the NTC Office of Admissions at admissions@NTCMN.edu, call (218) 333-6600 and ask for admissions or visit https://www.ntcmn.edu/admissions/visit-campus/.
2020-N-043