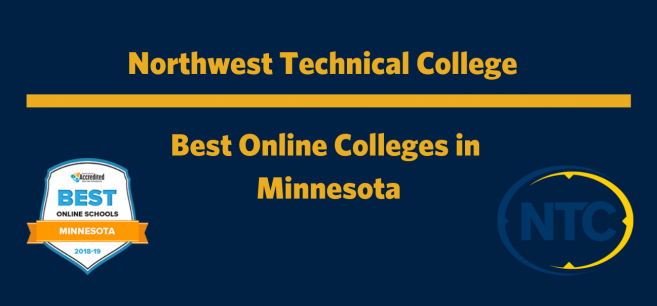 Northwest Technical College was recognized by Accredited Schools Online, as one of the best online colleges in Minnesota for 2018-2019.
With low tuition costs and many online degree program options, NTC ranked ninth on the list "Best Online Colleges in Minnesota 2018-2019" by Community for Accredited Schools Online.
About NTC's Online Programs
NTC partners with Distance Minnesotato offer many online classes and programs. A completely-online program can work well for most students, while others prefer a blended schedule where some classes are taken on campus, and others taken online. NTC is a technological learning organization that is open and inviting through its many associate degrees, diplomas and certificate programs in business and entrepreneurship, health and human service and science and technology fields. Guided by a commitment to excellence through education, students are prepared to meet the evolving needs of regional and global employers.
Methodology
Analysts reviewed statistical data from multiple sources for more than 7,500 post-secondary institutions and applied the eligibility criteria, then ranked the schools and programs. The criteria to be recognized stated the institution must not be a for-profit institution, must be accredited regionally or nationally, must offer at least one online program, and be within Minnesota. Data points were used to calculate a weighted score using the ranking factors of quality, affordability, flexibility, and program (in order of significance). To determine quality, which was the most important consideration for all Accredited Schools Online rankings, the most impactful data points were acceptance and graduation rates; for affordability, tuition and grants; for flexibility, part-time enrollment offerings; and for program, degrees conferred in that program area.
About Accredited Schools Online
Accredited Schools Online as founded in 2011 to provide students and parents with data and information about pursuing an affordable, quality education that has been certified by an accrediting agency. The site's community resource materials and tools span topics such as college accreditation, financial aid, opportunities available to veterans, people with disabilities and online learning resources. The website features higher education institutions that have developed online learning programs that include qualified faculty, new technology and resources and online support services to help students achieve educational success.
Links
Northwest Technical College, located in northern Minnesota's lake district, is an open, inviting technological learning organization. For more than 40 years, the college has valued life-long learning and the worth and dignity of all people. The college serves 900 students with a high-quality education, an open-enrollment policy and affordable tuition. NTC offers nearly 60 degree, diploma and certificate programs in areas such as business, health, human and protective services and environmental and industrial technology. Classes are offered on the Bemidji campus, online, or as a combination of both. NTC is a member of the colleges and universities of Minnesota State.
---