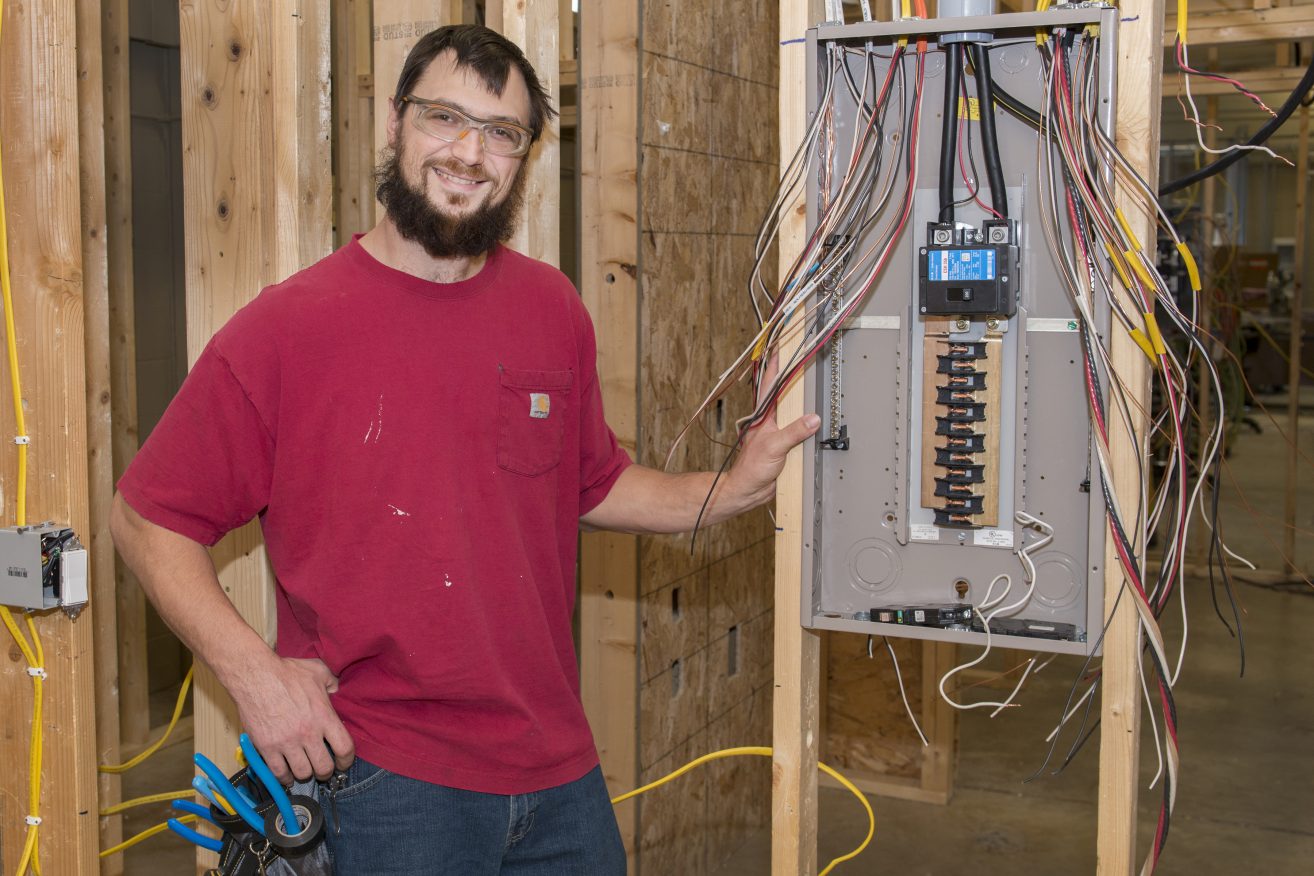 After facing his second layoff in less than 10 years in the production industry, Shawn Graupmann was ready for a career change. With the support of his wife and two young children, Graupmann made the decision to return to school and pursue a degree in electrical construction at Northwest Technical College.
"My dad is a master electrician and owns his own business, so it's been something I've always been around," Graupmann said of the electrical field. "My dad said I should do it right out of high school and now I'm going back to school to do what he told me to do 13 years ago."
Construction electricians build, install, maintain and repair electrical systems that provide heat, light or power to residential, commercial and industrial structures. Students in NTC's program also study green energy technologies and sustainable residential electricity, preparing them for work in emerging energy careers. Graupmann saw this program as an opportunity to learn about a growing industry that he is passionate about.
"I am really drawn to a self-sufficient lifestyle," Graupmann said. "Part of that lifestyle is energy sufficiency and having residential homes that produce their own power. With all the advancements in energy, this should be possible. I figured if I want to see it, I should study it and do it."
Graupmann's studies are being supported by a $1,000 George W. Neilson Foundation scholarship awarded by the NTC Foundation. Graupmann is one of 15 recipients of the Neilson Foundation scholarship this year. The Neilson Foundation scholarships are funded by a $20,000 grant from the foundation to support first-year NTC students.
"This scholarship makes it possible for me to continue to go to school at NTC," Graupmann said. "It helps buy groceries and put gas in the car."
With the support of NTC's Foundation, Graupmann is enjoying his classes and his transition back to school. Upon graduation, he plans to complete a construction electrician apprenticeship and eventually become a licensed electrician.
With a bright future ahead of him, Graupmann encourages others to pursue a degree at NTC when they feel the need for a change.
"I'm glad I came to NTC and would recommend it to others," he said. "I like the small class sizes, the layout of the campus and that I am on a first-name basis with all my teachers. Whenever I need something the opportunity for help is everywhere."
---
Northwest Technical College, located in northern Minnesota's lake district, has prepared students for fulfilling careers in high-demand fields for more than 50 years. The college's accessible, affordable, hands-on programs also help the region's employers meet their ever-growing need for a highly skilled workforce. NTC serves more than 1,000 students with an excellent education, an open-enrollment policy and affordable tuition. Students may pursue nearly 40 degree, diploma and certificate programs in six distinct career paths. Classes are offered on campus, online, or as a combination of both. NTC is a member of the Minnesota State system of colleges and universities. For more, visit ntcmn.edu