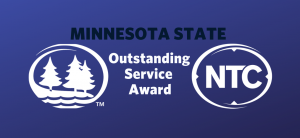 Employees of Bemidji State University and Northwest Technical College were recognized for outstanding work at the 2018 CFO Annual Conference held earlier this month at the Minnesota State system office in St. Paul, Minn.
The business services and purchasing teams from BSU and NTC received the Outstanding Services Award for their work in implementing Marketplace and training staff how to use it.
Marketplace is a new statewide electronic procurement system being implemented by the Minnesota State colleges and universities. Marketplace helps the system and its 37 member campuses procure products and services in a socially and environmentally responsible, equitable and sustainable manner. It also helps Minnesota State's Enterprise Sourcing and Procurement team create efficiency and ensure accountability in the purchasing and procurement process.
The Outstanding Services Award recognizes individuals or teams that provide outstanding campus service. This year 13 individuals and teams were recognized throughout the state.
"This is such an honor for the entire business office and purchasing staff. It's truly a team effort when a group of people can come together to accomplish a great task. I am very proud of all of them," Karen Snorek, vice president of finance and administration, said.
Individuals who were recognized include:
Dana Danielson, accounting technician
Mary Gish, accounting supervisor
Jodi Riley, accounting technician
Judy Rinkenberger, accounting officer
Josh Velez, central services admin specialist
Gina Walkup, purchasing supervisor
Contact
Northwest Technical College, located in northern Minnesota's lake district, is an open, inviting technological learning organization. For more than 40 years, the college has valued life-long learning and the worth and dignity of all people. The college serves 900 students with a high-quality education, an open-enrollment policy and affordable tuition. NTC offers nearly 60 degree, diploma and certificate programs in areas such as business, health, human and protective services and environmental and industrial technology. Classes are offered on the Bemidji campus, online, or as a combination of both. NTC is a member of the colleges and universities of Minnesota State.