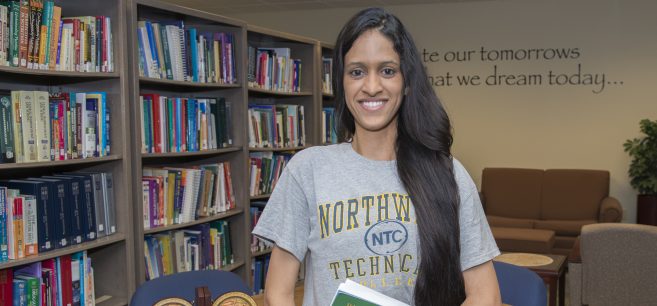 Moving from the country of Brazil, after marrying a local citizen, to study, live and thrive in Northern Minnesota may seem like a tough feat for some. But for Ester Olson, a student at Northwest Technical College, it has been a welcoming and encouraging experience.
Olson, who is currently studying medical coding at NTC said, "I feel very blessed to study and work in a community that accepts me and promotes diversity. I have always felt safe and accepted for who I am here. Everyone at NTC really works to assure students receive a good education and that diverse students are welcome here."
Olson has been a student at NTC since 2017 when she felt a pull towards the medical field and saw all the doors that medical coding could open for her future.
"I was drawn to the NTC medical coding program because it provides so many options and choices for my life," said Olson. "Upon graduation I can work in a clinic, a hospital, a private medical facility or even from home, depending on my career. There are also many opportunities for advancement."
In May 2018, Olson received her certificate of medical coding from NTC. This year she is continuing her education and working towards her diploma in medical coding, which she will graduate with in the spring of 2019. After she receives her diploma, the sky is the limit for Olson.
"My plan is to get my diploma in medical coding and from there I can enter the workforce, I can choose to continue going to school and receive my associate degree, or eventually move into a healthcare administration or leadership position," said Olson. "Medical coding gives me a solid base for a career in the medical field."
Olson has felt so accepted in her time at NTC that she has quickly become involved with campus life. She currently works in the NTC Library, is an active member of the Student Senate and has participated in the Student Diversity Panel. She is also 2018-2019 recipient of the Northwest Technical College Foundation Scholarship as well as the Fred Breen Foundation Scholarship.
When asked what she would tell future NTC students, Olson said, "I would tell them to go for it. You have to get out of your comfort zone sometimes to find something valuable. I want all students to feel welcome and accepted, the same as I do, at NTC. Bemidji is a cold place, but the people have warm hearts."
Northwest Technical College, located in northern Minnesota's lake district, is an open, inviting technological learning organization. For more than 40 years, the college has valued life-long learning and the worth and dignity of all people. The college serves 900 students with a high-quality education, an open-enrollment policy and affordable tuition. NTC offers nearly 60 degree, diploma and certificate programs in areas such as business, health, human and protective services and environmental and industrial technology. Classes are offered on the Bemidji campus, online, or as a combination of both. NTC is a member of the Minnesota State system of colleges and universities. For more, visit ntcmn.edu.
2019-N-SS-029