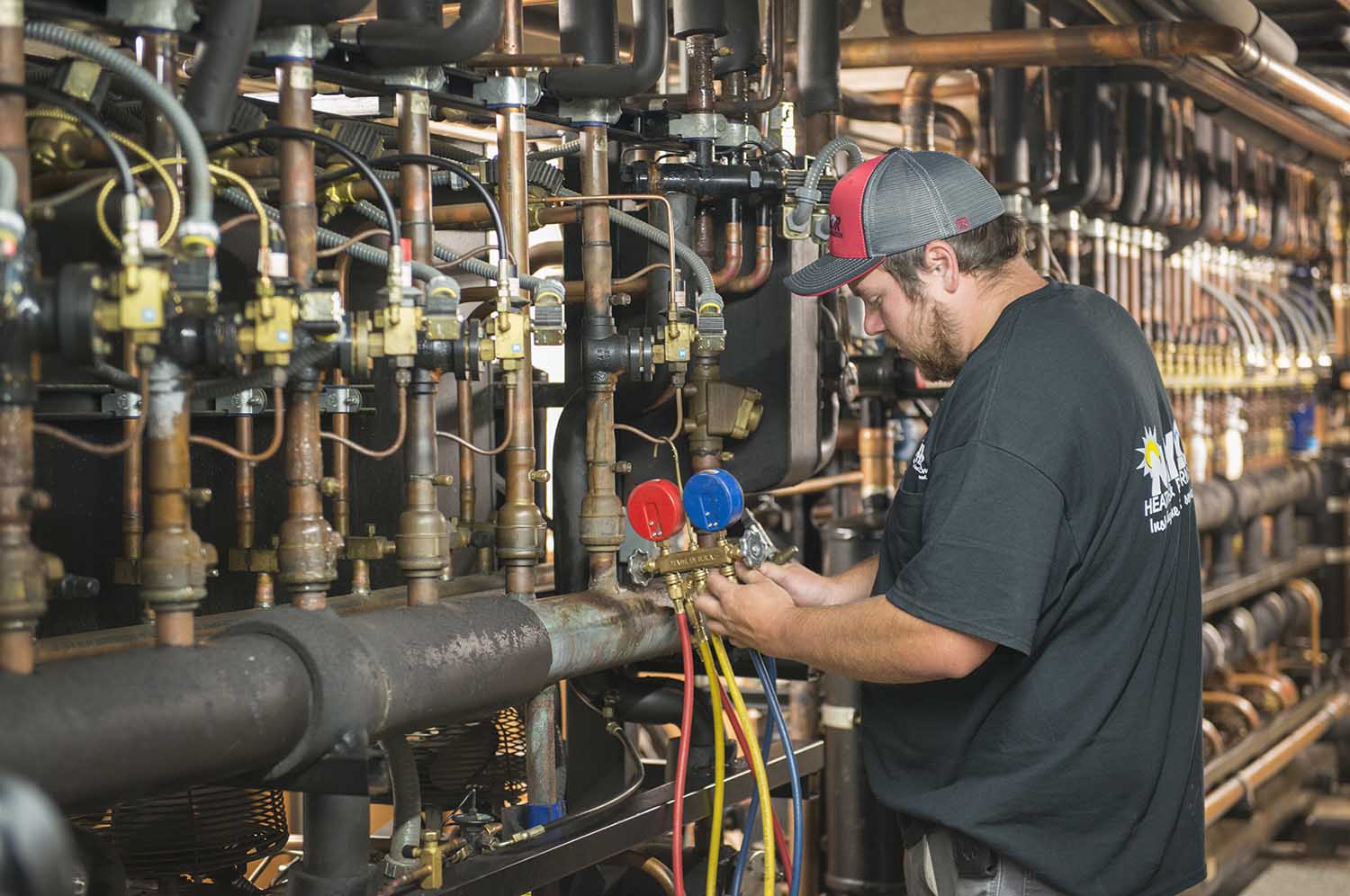 Northwest Technical College invites anyone interested in exploring careers in the growing, high-tech field of commercial refrigeration to a July 23 open house, where visitors can explore the college's new Commercial Refrigeration/HVAC diploma program.
The open house will be held from 4-6 p.m. at NTC's Sustainable Energy Technologies Center, located at 808 Paul Bunyan Drive SE in Bemidji. NTC admissions office staff will be on hand to answer questions and help with applications. Students who already have been admitted to NTC's Commercial Refrigeration/HVAC program for Fall 2018 may also attend the open house and register for fall classes.
NTC Commercial Refrigeration/HVAC students can earn a 60-credit diploma that combines courses in plumbing, HVAC and electrical construction & maintenance with a 15-credit block of new Commercial Refrigeration courses, along with general education requirements.
Darrin Strosahl, NTC's vice president for academic and student affairs, said the program will provide training and coursework that directly correlates to business and industry requests. Students will take courses in electrical theory and advanced electronics and motor controls along with specialized coursework exploring commercial refrigeration systems and equipment, and approximately 40 percent of coursework will involve hands-on training and field experience.
Commercial Refrigeration: An In-Demand Profession
NTC's Commercial Refrigeration/HVAC program is a direct response to a shortage of skilled employees reported by north-central Minnesota commercial refrigeration employers. During a Dec. 2017 presentation, employers encouraged the college to develop a program that provides a high level of electrical and electrical controls knowledge in addition to fundamental skills in commercial refrigeration.
"We've made a point to listen to business and industry, and have made sure our program reflects what they say they need," Strosahl said. "Ultimately, our goal is to serve our students. We want them to leave NTC with the skills they will need to be successful on the job. That's what technical education is about — ensuring that alignment between your education and your employment."
Modern Training Facilities
NTC's Commercial Refrigeration/HVAC students will train in a new lab facility featuring the same modern refrigeration systems and diagnostic tools graduates will see on the job. The college has received a $150,000 grant for equipment purchases from Bemidji's George W. Neilson Foundation, which can be matched with an additional $150,000 from the Minnesota State system of colleges and universities.
"Between this summer and the next school year, there will be a significant amount of equipment coming in to ensure our students can gain the technical skills they need," Strosahl said.
Contact
NTC Office of Admissions: (218) 333-6600
LINKS
Northwest Technical College, located in northern Minnesota's lake district, is an open, inviting technological learning organization. For more than 40 years, the college has valued life-long learning and the worth and dignity of all people. The college serves 900 students with a high-quality education, an open-enrollment policy and affordable tuition. NTC offers nearly 60 degree, diploma and certificate programs in areas such as business, health, human and protective services and environmental and industrial technology. Classes are offered on the Bemidji campus, online, or as a combination of both. NTC is a member of the Minnesota State system of colleges and universities.
---
2019-N-L-001