Ashley Johnson, executive director of the Northwest Technical College Foundation, has received an invitation from the Bush Foundation to attend bushCONNECT 2018, a regional conference for leaders in Minnesota, North Dakota, South Dakota and the 23 Native nations in those states.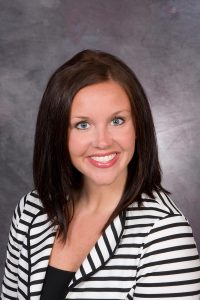 The conference will be held October 1 at the Guthrie Theater in Minneapolis, Minn. While many participants like Johnson are invited by partner organizations which receive foundation funding to recruit bushCON participants, the conference is open to anyone. A limited number of general-admission tickets are available through the conference's website for $75 each.
"bushCONNECT is designed to build stronger and more meaningful connections among networks of leaders in the region," Johnson said. "This will be an excellent opportunity to bring ideas back to rural Minnesota and implement the content shared amongst a diverse mix of people from the state."
Johnson, who also serves as a development officer with the Bemidji-based Northwest Minnesota Foundation, has been executive director of the NTC Foundation since March 2017, when the college and foundation entered into a long-term partnership to manage and develop the college's philanthropic capacities.
She has been with the Northwest Minnesota Foundation since 2012, first as its communications specialist where she developed communications and marketing strategies for the foundation's philanthropic services, community and economic development programs, nonprofit training, youth leadership and early childhood initiatives, and regional collaborative projects. Prior to that, she spent six years at Lakeland Public Television as a reporter, a corporate support representative and, most recently, as the station's legacy production manager.
About bushCONNECT
The Bush Foundation began hosting bushCONNECT in 2014 as an annual event to inspire and connect leaders from across sectors, disciplines, ideology, cultures and geography. Now a bi-annual event, bushCONNECT was founded on the principles of sharing ideas and building relationships and the belief that leaders do their best work when given opportunities to meaningfully connect with other people and with new ways of thinking.
The conference supports the foundation's goal of supporting innovative and creative problem solving in order to make the upper Midwest a better place for all people.
"If we truly want to spark innovative change in our region, we know it starts with people, specifically with leaders who have the power to influence their communities each and every day," the foundation said.
Contact
Links
---
2018-N-L-018
Northwest Technical College, located in northern Minnesota's lake district, is an open, inviting technological learning organization. For more than 40 years, the college has valued life-long learning and the worth and dignity of all people. The college serves 900 students with a high-quality education, an open-enrollment policy and affordable tuition. NTC offers nearly 60 degree, diploma and certificate programs in areas such as business, health, human and protective services and environmental and industrial technology. Classes are offered on the Bemidji campus, online, or as a combination of both. NTC is a member of the Minnesota State system of colleges and universities. For more, visit ntcmn.edu.
SaveSave