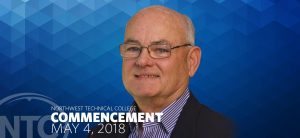 Retired Minnesota state legislator and construction executive Jerry Bauerly will deliver the 2018 Commencement address for Northwest Technical College.
Bauerly will address graduates at the college's annual commencement exercise, set for May 4 in Bemidji's Sanford Center. NTC commencement begins at 7 p.m. and is open to the public free of charge.
About Jerry Bauerly
Click to download high-resolution photo
Jerry Bauerly is a retired entrepreneur and executive who currently serves as board chair of Sentry Bank, which has four locations in St. Cloud, St. Stephen and St. Joseph, Minn. He also is a member of the Board of Directors of Granite Equity Partners, a St. Cloud-based private investment and holding company.
Before retiring, Bauerly was north-central region president for Knife River Corporation, one of the nation's largest construction materials and contracting companies. He also co-founded Bauerly Brothers, a Sauk Rapids, Minn.-based supplier of asphalt, concrete and other construction materials, with Dave Bauerly, in 1968, and was president of the company when it merged with Knife River in 2001.
Bauerly entered politics in 1987, serving Minnesota District 18B and, later, 17B, in the House of Representatives for four terms until 1994. During his tenure, he served as assistant majority leader, speaker pro tempore and vice-chair of education finance. He also was a member of the Minnesota Governor's Commission on Education from 1982-84.
In addition to his professional and political career, Bauerly also has been an active community leader. He chaired the Foley, Minn., school board and was a member of the Board of Regents for St. John's University. He also has served on a number of boards including First State Bank of St. Joseph, Falcon National Bank, BREMER Bank, North America, Central Minnesota Ethanol Co-Op, Granite Equity Limited Partnership and the Salvation Army.
Bauerly has a bachelor's degree in social studies and education from St. Cloud State University. He and his wife, Elaine, live in Sauk Rapids, Minn., near their three children and seven grandchildren. Bauerly works on a hobby farm, where he raises and shows quarter horses and cattle.
Northwest Technical College, located in northern Minnesota's lake district, is an open, inviting technological learning organization. For more than 40 years, the college has valued life-long learning and the worth and dignity of all people. The college serves 900 students with a high-quality education, an open-enrollment policy and affordable tuition. NTC offers nearly 60 degree, diploma and certificate programs in areas such as business, health, human and protective services and environmental and industrial technology. Classes are offered on the Bemidji campus, online, or as a combination of both. NTC is a member of the Minnesota State system of colleges and universities.
---
2018-N-L-013