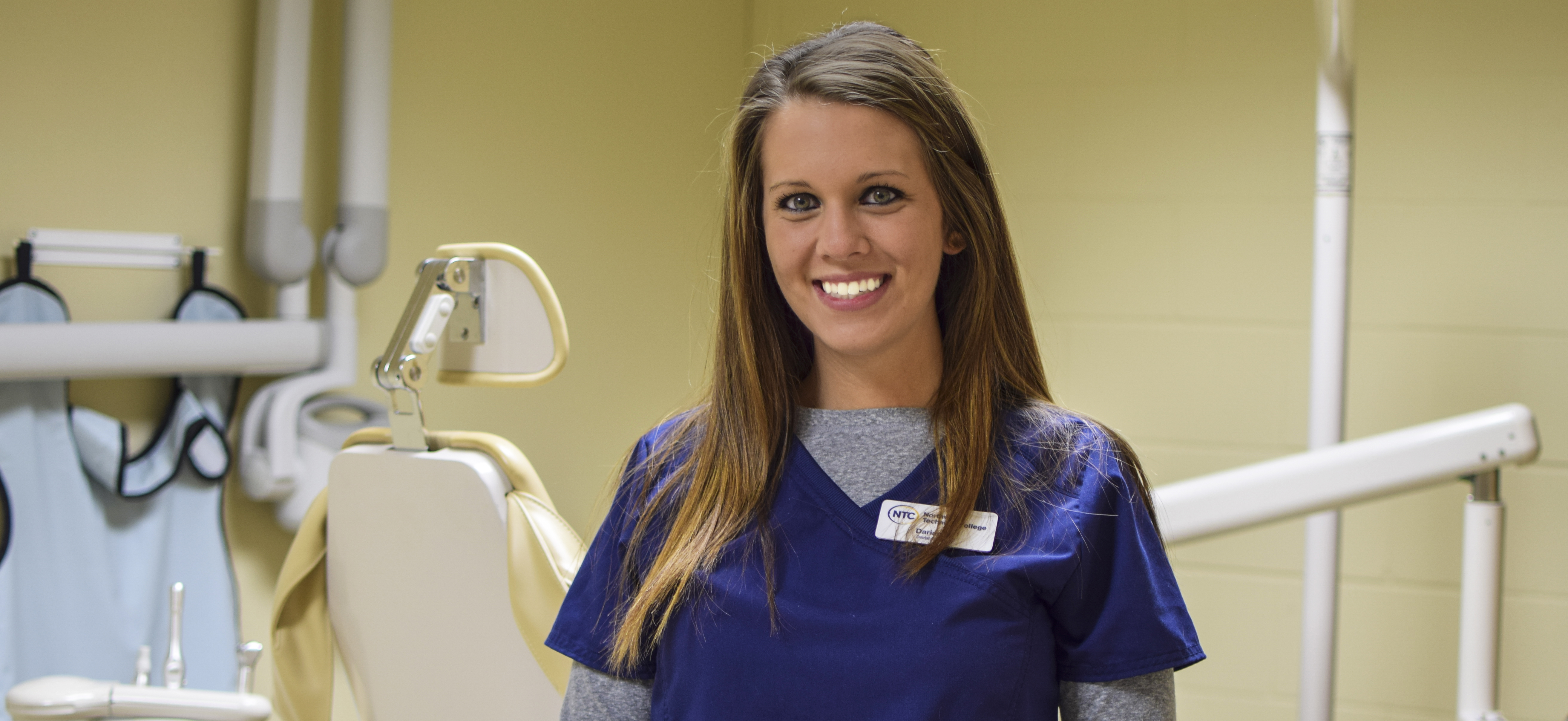 Northwest Technical College has made it possible for Darian Dahl to take courses at her own pace and maintain the school-life balance she wanted for herself and her family. Now in her last semester, Dahl is excited to walk in commencement this May and start her career as a dental assistant.
Dahl admitted to dreading dental visits up until she got braces.
"I hated going to the dentist," she said. "Then I got my braces and I became fascinated with all of it. From there on out I just knew I would go into the dental field."
After graduating Lake of the Woods High School in Baudette, Minn., Dahl began courses at Lake Superior College in Duluth, Minn. After taking several dental hygienist prerequisite courses, she discovered that dental assisting would be a better fit for her.
"Dental assisting is different every day," she said. "It's hands on and more than just the mouth — but the head, neck and tissues too — which interests me more."
NTC's 60-credit associate of science degree in dental assisting prepares graduates to work under the direction of a dentist in general dentistry, dental specialties, orthodontics and oral/maxillofacial surgery. Graduates are eligible to write the Dental Assisting National Board Certification Exam and the Minnesota State Dental Assisting Licensure Exam. Upon successful completion of the exams, graduates are certified and licensed dental assistants.
She chose to transfer into NTC's dental assistant program because it was closer to home and more convenient for her and her family. Dahl was able to start the program online and stay in Baudette for the first two years with her boyfriend, Josh, her son, Rylan, and her daughter, Oaklynn.
Now, nearly three years later, she is thankful to have had that time at home with her children and complete her degree at the same time.
"I was able to do my generals online, start my AAS, and come for the hands-on courses this year," she said. "It's been awesome and I was able to stay home with Rylan until he was two and Oaklynn until she was one."
Upon graduation in May, Dahl will intern with two dental offices, Lake Family Dental and Northern Lights Dental, both located in Warroad, Minn. During her time at NTC she has done observations at both locations, and hopes to be hired at one of them once she completes her internships.
NTC's Dental Assisting program provides knowledge necessary to become a chair-side dental clinician, assisting with a variety of dental clinical functions, laboratory tasks and business office responsibilities. Dahl says the dental assisting lab at NTC is giving her hands-on experience with the same equipment she'll use in a professional dental office.
Dahl said she thinks often about going back to school in the future to become a dentist herself.
"I don't know where the future will take us, but I am happy to start the adventure soon," she said.