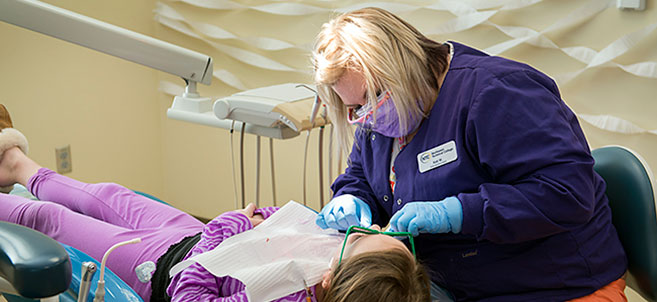 Northwest Technical College is offering free dental screenings to children between the ages of 1-18 on Feb. 2 as part of the American Dental Association's Give Kids a Smile program.
Children will be seen in NTC's Dental Assisting lab between 8:30 a.m.–3:30 p.m. on Feb. 2. Service is available by appointment only, and registration is open. Families wishing to participate in the program are invited to call (218) 556-3666 and ask for Angie to schedule an appointment.
Screenings will be provided by dentists in collaboration with NTC Dental Assisting students. NTC has been participating in Give Kids a Smile for more than 15 years. During the events, NTC typically provides over $4,000 worth of free care to more than 70 children. This year the addition of some limited restorative procedures will also be provided.
Julie Dokken, director of NTC's dental assisting program, said the college's Give Kids a Smile program is well-supported by the region's dentists and their staffs, who volunteer their time to participate, and provides a way for NTC Dental Assisting graduates to return to campus.
"We get dentists from all over the region coming here to provide service," she said. "We get dental assistants and hygienists to provide services as well, and the majority of the assistants who come back are NTC alumni."
Give Kids a Smile
Through the American Dental Association Foundation's Give Kids A Smile program, launched nationally by the ADA in 2003, more than 5.5 million underserved children have received free oral health services. In 2017, these free services were provided by more than 30,000 dental team members, 8,000 of whom are dentists. The program is made possible by the continued support of national sponsors Henry Schein, Colgate and KaVo Kerr.
Each year, Give Kids A Smile is celebrated nationally on the first Friday in February, and events take place throughout the year such as back-to-school events in August. Give Kids a Smile events are intended as touch points for children who do not receive dental care. The ultimate goal is to establish a dental home for these children and continuity of care, according to the ADA Foundation website.
Contact
Links
* American Dental Association: "Get Ready for Give Kids a Smile 2018"
Northwest Technical College, located in northern Minnesota's lake district, is an open, inviting technological learning organization. For more than 40 years, the college has valued life-long learning and the worth and dignity of all people. The college serves 900 students with a high-quality education, an open-enrollment policy and affordable tuition. NTC offers nearly 60 degree, diploma and certificate programs in areas such as business, health, human and protective services and environmental and industrial technology. Classes are offered on the Bemidji campus, online, or as a combination of both. NTC is a member of the Minnesota State system of colleges and universities.
---
2018-N-R-003