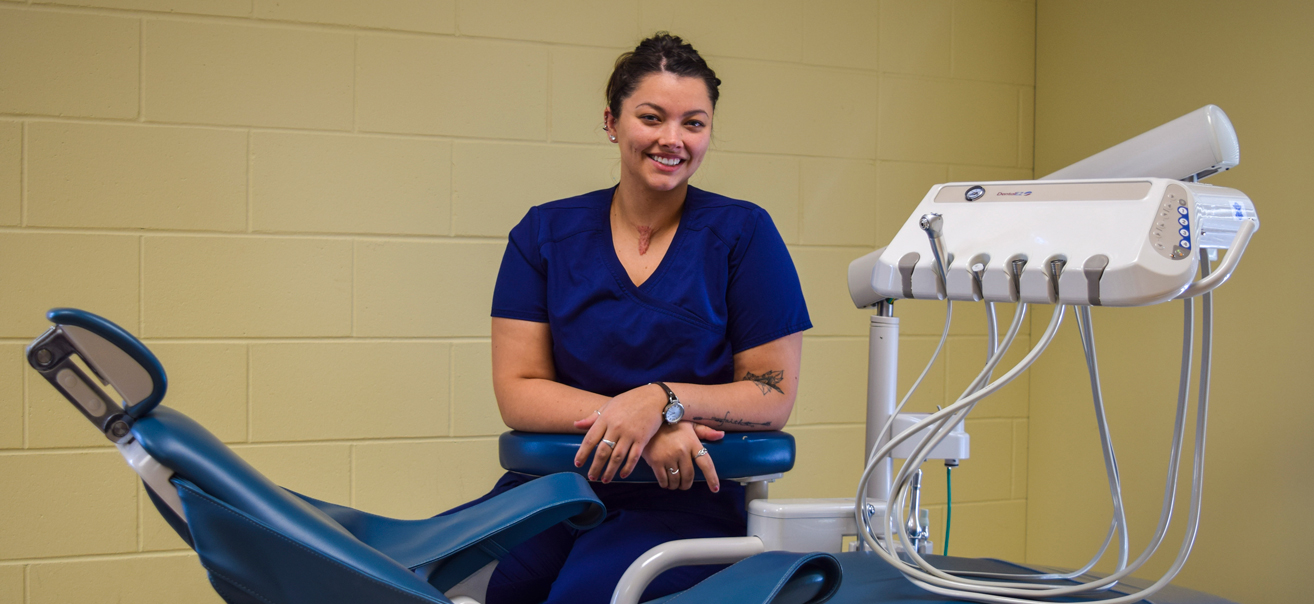 Northwest Technical College has Makenzi Pelach on a path toward a career that suits for her work ethic. As a first-year student in NTC's Dental Assisting program, she finds the visual and hands-on learning environment crucial to her future success in the workforce.
After graduating from Lake of the Woods High School in Baudette, Minn., Pelach ventured south to Dakota County Technical College. While completing the Phlebotomy Technician program there, Pelach discovered she was not particularly interested in the hospital scene—but instead set her sights on a different aspect of health care.
"I've always been fascinated with teeth, but I had never considered working in a dental office," she said. "When researching other job opportunities within the field, I found the job description of a dental assistant just fit who I am as a person."
NTC's 60-credit associate of science degree in dental assisting prepares graduates to work under the direction of a dentist in general dentistry, dental specialties, orthodontics and oral/maxillofacial surgery. Graduates are eligible to write the Dental Assisting National Board Certification Exam and the Minnesota State Dental Assisting Licensure Exam. Upon successful completion of the exams, graduates are certified and licensed dental assistants.
"I would like to further my education in dental hygiene or oral surgery after having experience in the work force," Pelach said.
NTC's two-year program will allow Pelach to finish her degree and seek employment as quickly as possible.
So far, she's found group projects to be the most impactful for helping her learn the different details and techniques in dental assisting.
"I was struggling to find a comfortable fulcrum technique, but a girl in my group showed me a different way of holding the instrument that I hadn't tried," she said. "That made it much easier for me. Group learning works best for me when I get stuck in my own way of doing something, and the group keeps my mind open."
Dental Assisting at NTC
At Northwest Technical College in Bemidji, students can obtain a diploma or associate of applied science degree in dental assisting. Both credentials qualify graduates to become chair-side dental clinicians, and the associate's degree offers advanced coursework in anatomy & physiology and microbiology. Each credential at NTC builds on the one before it, and all offer job opportunities in the Bemidji region. For more information, contact the NTC Office of Admissions at admissions@NTCMN.edu, call (218) 333-6600 and ask for admissions or visit ntcmn.edu/visit.
NTC's Dental Assisting program provides knowledge necessary to become a chair-side dental clinician, assisting with a variety of dental clinical functions, laboratory tasks and business office responsibilities. Pelach says the dental assisting lab at NTC is giving her hands-on experience with the same equipment she'll use in a professional dental office.
"Practicing in the dental chairs and working on each other's mouths is completely different compared to working on a mannequin," she said. "It's so interesting to learn different techniques that would affect real-life situations—like someone moving their tongue in an x-ray."
The program's faculty also have been there to support her, while encouraging her to be the best she can be. She said she especially appreciates the support of dental assisting faculty member Terri Bannor.
"Terri has been so supportive, and she makes a point to cater to everyone's learning types," Pelach said. "She holds me accountable and pushes me to work hard."
Pelach says NTC feels like home, and that has played an important role in her success in the classroom.
"I grew up in a small school and at NTC I feel comfortable," she said. "People are kind and the teachers are more than willing to help you out."