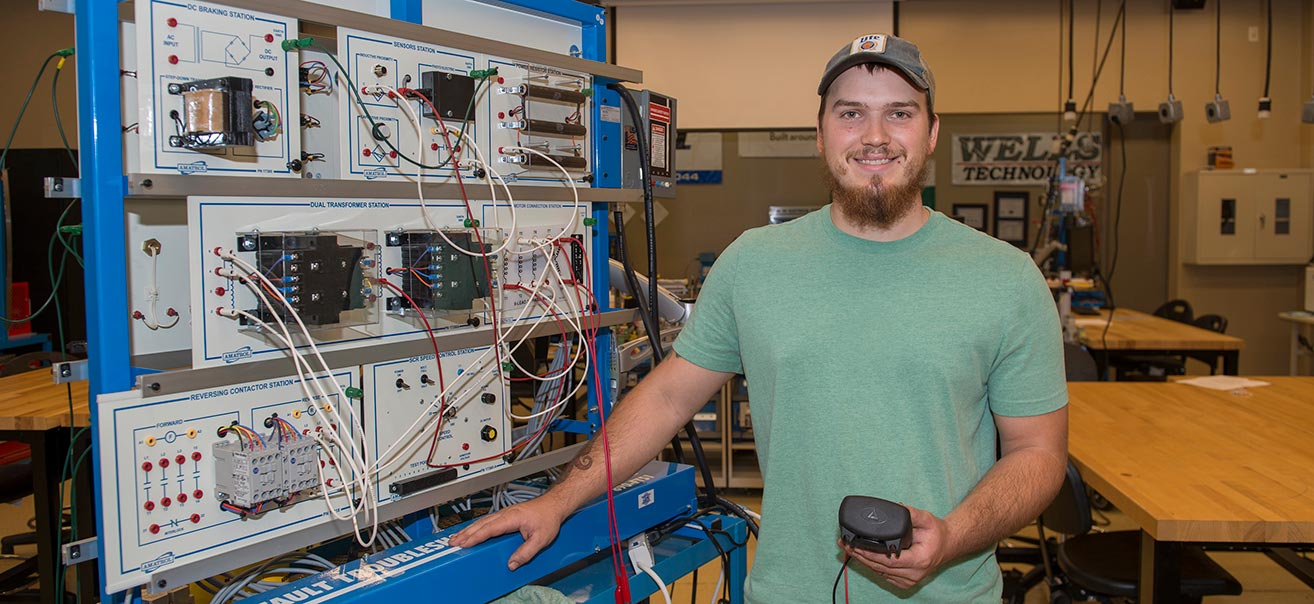 Bemidji native Russell Mason feels prepared to work as a construction electrician apprentice once he's graduated from Northwest Technical College.
Construction electricians build, install, maintain and repair electrical systems that provide heat, light or power to residential, commercial and industrial structures. Students in NTC's program also study green energy technologies and sustainable residential electricity, preparing them for work in emerging energy careers.
Electrical Construction at NTC
At Northwest Technical College in Bemidji, students can obtain a variety of credentials in electrical construction, including certificates in commercial wiring, residential wiring or electrical instrumentation, a diploma in electrical construction and maintenance or an associate of applied science degree in electrical construction and maintenance. Each credential builds on the one before it, and all offer job opportunities in the Bemidji region. For more information, contact the NTC Office of Admissions at admissions@NTCMN.edu, call (218) 333-6600 and ask for admissions or visit ntcmn.edu/visit.
Technical and general courses offer a mix of theory and hands-on learning in classrooms, labs and at job sites. NTC electrical construction students learn wiring methods, blueprint reading, material selection, programmable controllers and national electric code.
NTC Electrical Construction graduates enter the workforce as construction electrician apprentices with salaries around $44,000 per year, and are equipped to pursue journeyman or master electrician's licenses in the future.
Mason says the faculty at NTC are giving students experiences in the classroom that are giving him the skills he will need on the job site.
"In the introduction labs and lectures, you learn how to build mockups, bend conduit and take measurements just like you would on the job," he said. "They even give you obstacles to go through while in lab that you would likely experience on a job site."
Mason is one of a dozen recipients of NTC's Fred Breen Memorial Scholarship, given by the NTC Foundation. Breen scholarships offer $1,000 awards to students who have resided in Beltrami County for one year prior to enrollment, completed 12 credits at NTC with a 2.5 grade point average, and are enrolled in a minimum of six credits at NTC.
He was in attendance at a special recognition ceremony for NTC Foundation Scholarship winners in September, where he received a letter of congratulation from Dr. Faith C. Hensrud, president of NTC and Bemidji State University. Mason and other scholarship recipients also were congratulated by Darrin Strosahl, NTC's new vice president for academic and student affairs, and Lori Paris, president of the NTC Foundation Board of Directors.
"It felt pretty good to be recognized for what I've achieved and what I'm working toward," he said. "Being up in front of everyone and receiving the letter, it was nice to be a part of the event."
The scholarship is helping Mason achieve his dream of becoming an electrician and continue a family tradition started by his father — who also is a master electrician. He said NTC is allowing him to stay close to home, which gives him more time to spend with his wife, Emily, and their young son, Theodore.
"When I finished high school in 2013, I worked for a fiber optic company," he said. "I was traveling and moving around for work in Kansas, Illinois, and North and South Dakota. I didn't have a lot of time with my family. Staying here in town keeps me closer to home and my family, giving me more time with them."
Over the last few summers, Mason has served as a service apprentice for Bessler/Weibolt Electric. Mason said that the course experience during his first year at NTC has provided him with opportunities to build a relationship with Bessler/Weibolt before completing his diploma.
"The courses transfer right over how to do everything on the job," he said. "It's given me a real feel for what the job will be like."