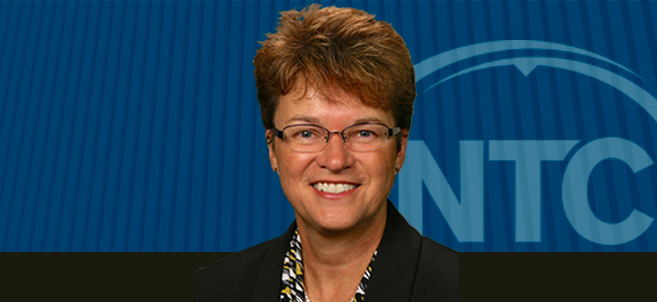 Dr. Faith Hensrud was presented as the president-elect of Northwest Technical College and Bemidji State University to faculty, staff, students, administrators and members of the Bemidji community at an April 25 open forum on campus.
Hensrud was introduced by Dr. Richard A. Hanson, who announced in Aug. 2015 that he would retire this summer after a six-year tenure as BSU/NTC president.
"In the life of great institutions, transitions are necessary things that happen," he said. "This is one of those days where we get to welcome into our community a new talent."
Minnesota State Colleges and Universities Chancellor Steven A. Rosenstone and MnSCU Trustee Elise Bourdeau also spoke at the presentation. Hensrud was recommended to the MnSCU Board of Trustees by Rosenstone last week. That recommendation was approved in a unanimous vote of the board on April 20.
"There is only one individual that emerged number one every single step of the way, and we got her," Rosenstone said.
He also thanked the members of the search committee for their work as he described the selection of presidents as one of his most important roles as chancellor.
After Bourdeau shared comments the chancellor's office received following Hensrud's March 23 campus visit, Hensrud addressed the gathered crowd.
"I am truly honored to be here today," Hensrud said. "I'm extremely grateful to Chancellor Rosenstone for his recommendation and to the Trustees for placing their confidence in me as the 11th president of Bemidji State University and Northwest Technical College. I want to thank president Hanson for his welcome and for the positive working relationship that I am sure that we will enjoy."
Hensrud said her research into both NTC and BSU during the search process reinforced her desire to focus on strengthening enrollment with an emphasis on student success and access, expanding on existing relationships with the region's native nations, improving campus climate to help all students feel welcome and grow the relationship between the college, the university and the Bemidji community.
"While I have much more to learn, your commitment has inspired me," Hensrud said. "I look forward to developing lasting relationships that will enable us to work collaboratively to advance both BSU and NTC for the betterment of the region and for the students whom we serve."