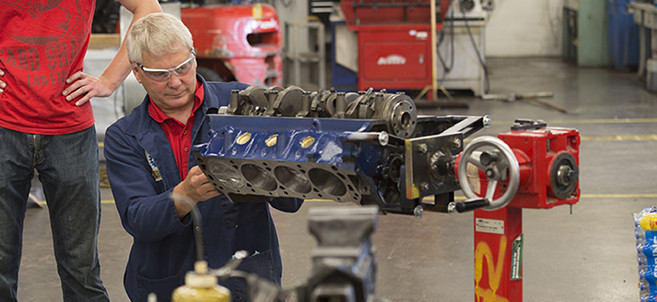 Paul Nelson, an instructor in Northwest Technical College's high-performance engine machinist program, has won the fifth annual Aftermarket Champion Technician competition, sponsored by German automotive part manufacturer MAHLE. The competition honors the skills and experience of engine technicians and specialists across the country.
For winning the competition, Nelson will receive an all-expenses paid trip to the 2015 NASCAR Sprint Cup Series™ Champion's Week, Dec. 2-5 in Las Vegas. The trip will include a three-night hotel stay and a special meet-and-greet with a NASCAR personality. The award also includes VIP viewing area at NASCAR Victory Lap™ and tickets to a number of NASCAR awards programs and luncheons.
MAHLE uses the champion technician competition to spotlight passionate, talented and forward-thinking engine technicians and specialists. Entrants in the essay contest must showcase their passion for engines and engine building, demonstrate how their success and creativity helps further the field of engine development and explain why they should be considered a champion in the field.
"Paul Nelson has exemplified the characteristics of a true 'champion' throughout his career," said Jon Douglas, general manager of MAHLE Aftermarket. "Not only has he advanced his own career in engine technology, but strives to better the education of those entering the field today. He not only instructs in the technical sense, but also gives his students the same passion, confidence and determination he possesses to prepare them for the future."
Nelson, a 1979 Northwest Technical College graduate, has been teaching NTC's high-performance automotive programs for 23 years. In Nelson's career at NTC, many of his students have gone on to find great success in the automotive industry. His students have found jobs, across the country and around the world, with NASCAR, NHRA dragster teams, truck pulling, tractor pulling and circle track.
About MAHLE
MAHLE, an international supplier to the automotive industry, has products for combustion engines and their peripherals and solutions for electric vehicles. MAHLE products cover all aspects of powertrain and air conditioning technology, from engine systems and components to filtration and thermal management. MAHLE is represented by around 66,000 employes in over 30 countries with 170 production locations.
Contacts
Paul Nelson, high performance engine machinist instructor; (218) 333-6638, paul.nelson@ntcmn.edu
Ted Hughes, manager – marketing, MAHLE Aftermarket Inc.; (248) 347-9710, ted.hughes@us.mahle.com
Links
Northwest Technical College, located in northern Minnesota's lake district, is an open, inviting technological learning organization. For more than 40 years, the college has valued life-long learning and the worth and dignity of all people. The college serves 900 students with a high-quality education, an open-enrollment policy and affordable tuition. NTC offers nearly 60 degree, diploma and certificate programs in areas such as business, health, human and protective services and environmental and industrial technology. Classes are offered on the Bemidji campus, online, or as a combination of both. NTC is a member of the Minnesota State Colleges and Universities system.