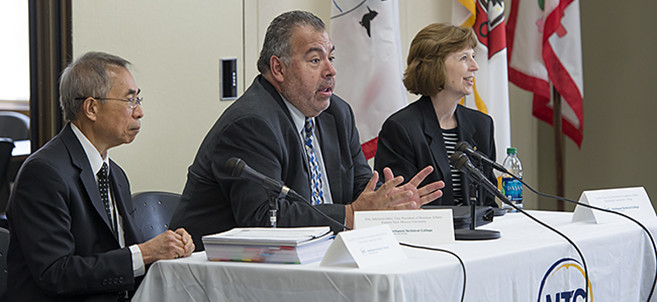 On Sept. 29, a three-person team representing the Higher Learning Commission concluded a two-day site visit at Northwest Technical College, where they met with students, staff, faculty and community members as part of their review of the college's case for continued accreditation.
The Higher Learning Commission accredits degree-granting post-secondary educational institutions in the North Central region of the United States. The commission and its accreditation process assure the quality of higher education for students who benefit from federal financial aid programs.
The college's visit team included:
* David Ho, vice president of academic affairs (retired), Metropolitan Community College, Bellevue, Neb.
* Cynthia Hoss, vice president of academic affairs, Hutchinson Community College, Hutchinson, Kan.
* Eric Johnston-Ortiz, vice president for business affairs, Eastern New Mexico University-Roswell, Roswell, N.M.
The team's visit had three basic elements: customary meetings and reviews, areas of focus and improvement and open-forum discussions. The team conducted nearly 20 meetings with faculty, staff, administrators and others during the visit.
"NTC is doing many things very well," Johnson-Ortiz said during the visit's exit interview. "It's clear that the faculty here care for students and that they are trusted by students."
NTC has been accredited by the Higher Learning Commission since 1995, and its accreditation was reaffirmed in 2014-15. This site visit was the culmination of several months of intense activity as the college gathered data to present its case for continued accreditation.
On Aug. 31, NTC submitted its comprehensive, written case for reaccreditation to the HLC. The document was researched, written and reviewed during the spring and summer of 2015 by a steering committee which included faculty, staff and administrators, guided by Bob Griggs, interim dean of the college. Community input to the HLC on the quality of NTC was also solicited.
"We are excited about the visit," Griggs said. "I want to thank the faculty, staff and community members who have participated in this comprehensive review over the last day and a half."
Griggs said the college anticipates a final report from the HLC with a decision on NTC's accredation status later this year.
Contact
• Scott Faust, director of communications and marketing; (218) 755-2041, sfaust@bemidjistate.edu
Links
Northwest Technical College, located in northern Minnesota's lake district, is an open, inviting technological learning organization. For more than 40 years, the college has valued life-long learning and the worth and dignity of all people. The college serves 900 students with a high-quality education, an open-enrollment policy and affordable tuition. NTC offers nearly 60 degree, diploma and certificate programs in areas such as business, health, human and protective services and environmental and industrial technology. Classes are offered on the Bemidji campus, online, or as a combination of both. NTC is a member of the Minnesota State Colleges and Universities system.