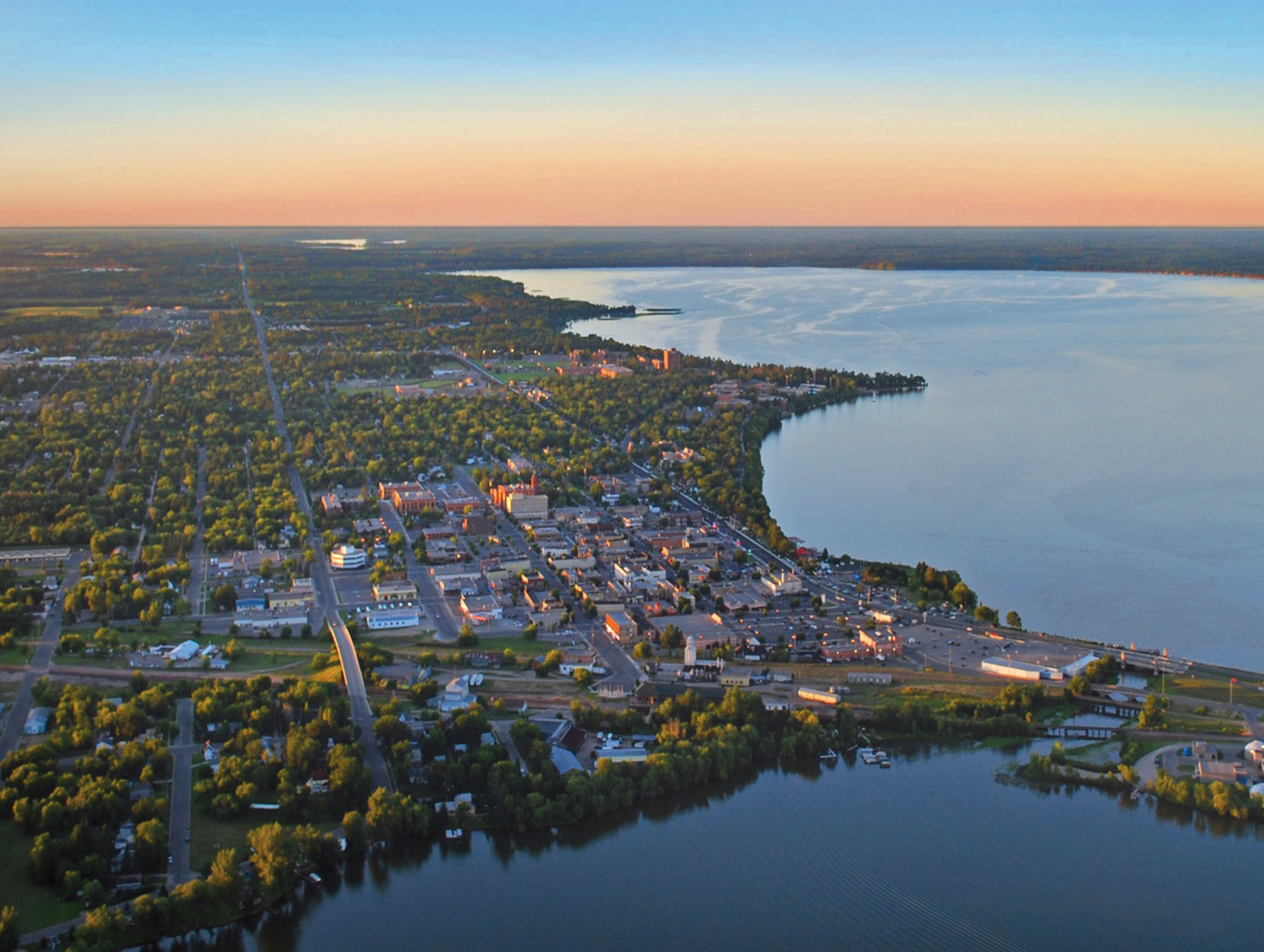 Bemidji State University and Northwest Technical College are located amid the lakes and forests of northern Minnesota. Bemidji State occupies a wooded campus along the western shore of Lake Bemidji, while Northwest Technical College lies just three miles east, near Bemidji's robust industrial district.  
When settling the Bemidji area in 1750, the Ojibwe people named the lake Bemidjigamaag, a word that translates to English as "a lake with crossing waters," as the Mississippi River flows in from the south and exits on the east. While folk legends claim Lake Bemidji was formed in Paul Bunyan's footprint as he logged his way west, BSU professors will tell you it was simply the final result in the last stage of glaciation in Minnesota. 
Bemidji is a tight-knit community possessing all the charm and character of a college town. Named after the Ojibwe Chief Shaynowishkung, the city is located between three American Indian tribal nations: the Leech Lake Band of Ojibwe, the Red Lake Nation and the White Earth Nation. While the city of Bemidji proper claims a population of around 15,000, as a regional hub it provides goods, services, and employment to nearly 100,000 Minnesotans. 
Located just minutes away from a thriving downtown Bemidji, both the BSU and NTC campus communities have convenient access to affordable restaurants, fine-dining experiences, cozy coffee shops, grocery stores — including a natural foods co-op — city parks, and nearly unlimited outdoor recreational opportunities. Small, locally-owned shops and art sculptures line the streets of downtown Bemidji, while national chains can also be found in and around the Bemidji area. The historic Paul Bunyan Playhouse has a calendar of classic shows, restaurants offer weekly live music performances, the First Friday Art Walk provides a tour of new monthly art exhibits, and annual festivals bring the community together throughout the year.  
Additionally, the north woods setting means students, staff, and faculty have a variety of activities available at their fingertips year-round. With more than 400 lakes — and a 240-acre research forest owned by BSU — within 25 miles of the city, there is easy access to kayaking, canoeing, swimming, boating, paddle boarding, hunting, hiking, biking, foraging, fishing, and more. An expansive network of multi-use trail systems are available for running, cross country skiing, single-track or fat-tire biking, and skijoring. Further, downhill skiing, snowboarding, and tubing lies just north of Bemidji at the Buena Vista Ski Area. 
Bemidji is also near two of Minnesota's 66 state parks:  Lake Bemidji State Park, which sits along Lake Bemidji's northern shore, and Itasca State Park, home to the majestic Mississippi River Headwaters. Both parks are popular recreational and camping destinations where locals and tourists gather for sailing, swimming, and fishing during the summer months and skating, hockey, curling, and, yes, more fishing in the winter.
Of course, no tour of Bemidji is complete without a visit to — and a selfie with — its two most famous residents: the iconic statues of Paul Bunyan and his trusty companion, Babe the Blue Ox. The famed duo, which has greeted visitors to Bemidji since 1937, are on the National Register of Historic Places and were once ranked by Kodak as the second most-photographed statues in America.