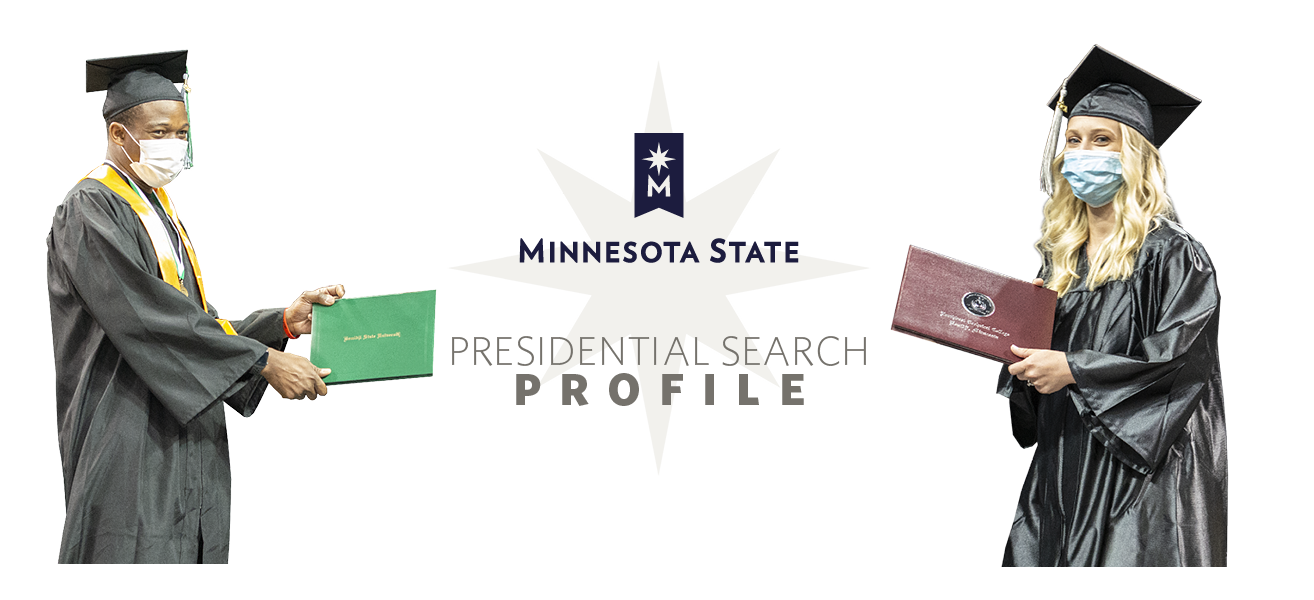 Opportunity Overview
In the north woods, on the shores of Lake Bemidji, nestled within limitless natural beauty and surrounded by Minnesota's three largest Indigenous nations, lies an opportunity like no other.
Bemidji State University and Northwest Technical College, located in Bemidji, Minnesota, seek a dynamic, visionary, and collaborative president who has the experience, vision, and creativity to lead both a four-year, regional public university and a two-year technical college.
Bemidji State University has been ranked as one of the top 25 public institutions in the Midwest region by U.S. News & World Report for each of the past three years. BSU offers its diverse body of around 4,500 students a comprehensive spectrum of opportunities with more than 100 undergraduate degrees and emphasis areas in more than 50 areas of study, 14 pre-professional programs, 10 graduate programs, and 10 certificates.
Bemidji State University
As Bemidji State embarks upon its second century of service, our vision is simple: we educate people to lead inspired lives. To achieve this, BSU prioritizes a campus culture in which diversity is embraced and all people are safe, welcome, and validated. BSU also proactively engages with Indigenous communities in northern Minnesota and nationwide in pursuit of its goal to become a destination university.
OUR VISION We educate people to lead inspired lives.
OUR MISSION We create an innovative, interdisciplinary, and highly accessible learning environment committed to student success and a sustainable future for our communities, state, and planet. Through the transformative power of the liberal arts, education in the professions, and robust engagement of our students, we instill and promote service to others, preservation of the earth, and respect and appreciation for the diverse peoples of our region and world.
SHARED FUNDAMENTAL VALUES Through the sum of their educational experience at Bemidji State, students will have multiple opportunities to learn about, experience, and reflect on the University's Shared Fundamental Values of:
Civic engagement and leadership
International and multicultural understanding
Belief in the power of the liberal arts
Environmental stewardship
These core values guide Bemidji State's curriculum and services. Not tightly defined, they invite interpretation and discovery.
Northwest Technical College
Northwest Technical College is one of only three pure technical colleges remaining in Minnesota, helping around 1,000 students each year align their education with their employment goals. NTC offers nearly 40 certificates, diplomas, and degrees in 20 programs across six career paths. For more than 50 years, NTC has prepared students for fulfilling careers in well-paying, in-demand fields. The college's accessible, affordable, hands-on programs also help the region's employers meet their ever-growing need for a highly skilled workforce. With an open-enrollment policy and affordable tuition, NTC meets students where they are with a convenient mix of on-campus, online, and hybrid courses.
Through a shared services alignment, NTC students are able to take advantage of services, support, activities, and opportunities at BSU that expand and enhance their college experience — such as full access to BSU's library and the ability to live in BSU's on-campus resident housing.
OUR VISION Northwest Technical College will be a regional leader in providing accessible and innovative education to meet the evolving needs of our diverse students, communities and workforce.
OUR MISSION Northwest Technical College engages, supports, and prepares students for rewarding careers through innovative programs and hands-on learning.
SHARED FUNDAMENTAL VALUES Our students, faculty, and staff strive for:
Excellence – focus on quality and continuous improvement.
Integrity – earn trust by doing what we say we will do; ensure high professional and ethical standards.
Inclusion – provide an atmosphere of respect, sense of belonging, dignity, and acceptance of all.
Student Success – provide access and educational opportunities for personal and professional growth.
Innovation – deliver creative and future-oriented career and technical programs.
Community Engagement – develop strong collaborative relationships with education, business, and industry to meet regional needs.
BSU and NTC employees are represented by eight bargaining units, including individual faculty unions representing each institution. These unions represent and advocate on behalf of around 650 employees, fostering an effective and collaborative shared governance environment.
BSU and NTC are members of the Minnesota State system of 30 colleges and seven universities, encompassing a total of 54 campuses in 47 Minnesota communities. The third-largest system of higher education in the nation, Minnesota State annually serves more than 340,000 students.