Bemidji State University and Northwest Technical College will host a luncheon for Tuleah Palmer, recipient of the 2023 Distinguished Minnesotan Award, on Tuesday, November 28, from 12–1:30 p.m. in the American Indian Resource Center.
Palmer, who has spent more than 20 years serving non-profit and human services organizations in northern Minnesota, delivered 2023 Commencement addresses for Bemidji State University and Northwest Technical College as the recipient of the 39th Distinguished Minnesotan award. First presented in 1981, the Distinguished Minnesotan award acknowledges the contributions of current or former residents of the state who have performed exemplary service to the people of Minnesota or the United States.
The event is hosted by the Office of the President. It is free and open to the BSU, NTC and Bemidji communities. No RSVP is required.
2023 Distinguished Minnesotan: Tuleah Palmer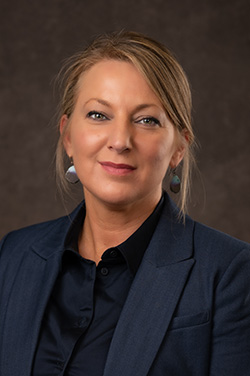 A first-generation university graduate from Deer River, Palmer earned a bachelor of arts degree in applied psychology from Bemidji State University in 2000. She has dedicated her career to providing social services, advancing racial equity and developing communities across northern Minnesota.
Palmer has served Minnesota as a provider of direct services and advocacy at the Domestic Abuse Intervention Project in Duluth, victim services coordinator for the Beltrami County Attorney's Office, executive director of the Boys and Girls Club of the Leech Lake Area, tribal planner and community development grant writer for the Leech Lake Band of Ojibwe and executive director of the Northwest Indian Community Development Center in Bemidji.
Since 2020, Palmer has overseen grant-making, community leadership training, public policy initiatives and resource stewardship as president and CEO of the Blandin Foundation in Grand Rapids.
Palmer's skill in establishing and maintaining relationships with municipal, county, state and tribal governments, nonprofits and Minnesota state systems has helped her secure more than $100 million in state and federal grants for community-building projects over her career. Under her leadership, the organizations she has represented have received funding from the Minnesota state legislature more than a dozen times.
Dr. John L. Hoffman, president of BSU and NTC, said Palmer is an outstanding BSU alumna who has positively contributed to the region and is an esteemed member of the BSU community.
"Tuleah's passion for the people of Minnesota is truly remarkable," he said. "She is a highly-respected leader who has committed her professional career to serving others. At her core is an authentic commitment to diversity, equity and inclusion in all of its forms, especially in rural spaces, and this has benefited Minnesotans in meaningful ways. I am beyond thrilled that she is this year's Distinguished Minnesotan."
Palmer was named the state-wide recipient of the St. Paul & Minnesota Foundation's Facing Race Statewide Award honoree in 2019. While at the helm of the Northwest Indian Community Development Center, she and the organization received the Bush Prize and a $500,000 grant to address homelessness in Bemidji, including housing for women returning from incarceration. Palmer was named to the Young Women's Initiative Executive Council in 2021.
She serves in a variety of advisory roles including the Legal Services Corporation's Rural Justice Task Force, the Governor's Council on Economic Expansion, the Governor's Workforce Development Council and Hubert Humphrey Institute of Public Policy's Future Services Institute. She also serves on Minneapolis Federal Reserve Bank's Community Advisory Board.