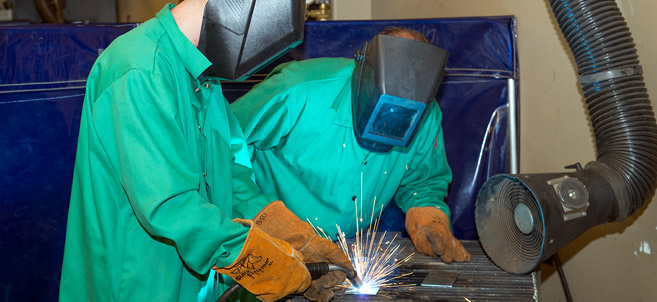 Anyone interested in pursuing careers in the rapidly growing welding trade can enroll in a new welding certificate program at Northwest Technical College beginning in January.
Employment Prospects
Students who pursue a welding certificate at NTC can prepare themselves for a rewarding, well-paying career in a field that has high demand for skilled workers. There are currently more than 9,000 welders employed in Minnesota, and economic projections indicate a demand for an additional 2,600 welders over the next few years. Typical wages for welders, cutters, solderers and brazers in the state are just under $20 per hour. Higher salaries are possible depending on the position and level of experience.
About NTC's Welding Program
NTC's 17-credit certificate program requires students to successfully complete seven courses, including:
Safety Awareness
Interpreting Symbols
Oxyfuel Welding and Cutting Process (also has a required lab section)
Shielded Metal Arc Welding (also has a required lab section)
Gas Metal Arc Welding / Flux Colored Arc Welding
Gas Tungsten Arc Welding
Metallurgy and Mechanical Properties of Materials
Safety Awareness and Interpreting Symbols are taught online, while lab courses will be taught in the welding lab in Bridgeman Hall 131 on the campus of Bemidji State University. All courses are taught in accordance with standards established by the Manufacturing Skill Standards Council (MSSC) and the American Welding Society (AWS).
"The program is set-up to quickly give students the basic skills necessary to obtain employment in the profession," said Chuck Abbott in the NTC Office of Admissions.
Three of the courses will be offered at NTC this spring – Safety Awareness, Interpreting Symbols and Metal Arc Welding – allowing students to complete 7 of the program's 17 credits. The remaining credits could be completed during the Fall 2017 semester. Spring classes begin on Jan. 9, 2017; students interested in the program can apply for admission to NTC up to and including the first day of classes.
The program differs from NTC's Welding Technology certificate, offered by 360 eTECH, in several important ways. While the 360 program is offered primarily online with some practical lab experience, the Welding certificate emphasizes hands-on lab experience and in-person classroom lectures with instructors.
A student may be required to enroll in college readiness courses in reading, writing and math to prepare them for the demands of a college-level curriculum. Enrollment in college readiness courses will be determined by a student's scores on the Accuplacer assessment test; credits may vary.
Build Toward Future Credentials
Successful completion of the welding certificate program will allow students to use those credits as the basis for future certificate or degree programs. For example, students can pursue NTC's Welding Technology certificate, which prepares welders for advanced careers by adding an additional 13-credit certificate in Production Technologies to the 17-credit welding program.
NTC hosting Jan. 5 registration event
Anyone interested in registering at Northwest Technical College for the spring 2017 semester or learning more about becoming an NTC student is invited to attend a Spring Registration Fair at the college from 1-3 p.m. on Thursday, Jan. 5.
The event will include an overview of NTC the college and its academic programs, followed by one-on-one assistance from financial aid and admissions staff. Those needing to take the Accuplacer Assessment are encouraged to arrive at noon.
Students who have already been admitted for spring 2017 may attend and register for classes or ask questions of NTC's financial aid or technical support staffs.
NTC is waiving its Spring 2017 application fees for all students. For more information, please contact the NTC Office of Admissions.
CONTACT
Northwest Technical College Office of Admissions: (218) 333-6600
Chuck Abbott, NTC Office of Admissions: (218) 333-6645, charles.abbott@ntcmn.edu
LINKS
NTC Welding Certificate Program