Prepare to design and install key building systems.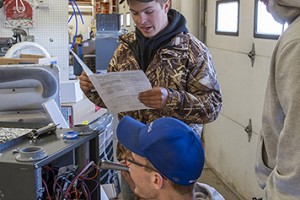 Mechanical Construction students gain specialized skills and knowledge to design and install commercial and light industrial mechanical systems including HVAC/R (heating, ventilating, air conditioning, and refrigeration), plumbing, and electrical systems.
Coursework focuses on boilers (steam and hot water); ventilation, exhaust and indoor air quality systems; drain, waste, vent and domestic water systems; refrigeration and air-conditioning equipment; and the related control systems.